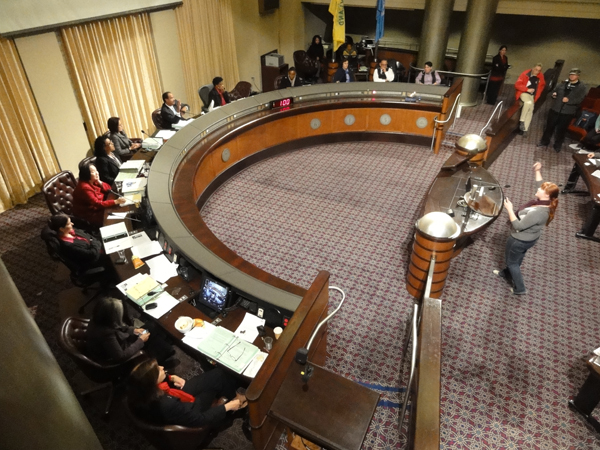 "On Tuesday, January 22nd, join the JAB Coalition and allies and come on back out to City Hall as the full City Council weighs what to do now that the Public Safety Committee has recommended moving forward on the Wasserman/Bratton consultancy proposal. In addition, the 22nd will be the 2 year anniversary of the murder of Raheim Brown by OUSD police officers Barhim Bhatt and Jonathan Bellusa.
Please join us to come together for a rally to honor the lives of all of Oakland's sons and daughters murdered by the police. The City Council meeting will begin at 5:30pm and the rally will start at 5:00pm.
Although Wasserman vehemently denied that he or the City Council were in any way trying to bring Stop and Frisk or gang injunctions or youth curfews or zero tolerance policing to Oakland, it is impossible to deny that the choice of a contract with Bill Bratton suggests the opposite. Bratton was on air the night before the Public Safety Committee meeting proudly proclaiming yet again his support of Stop and Frisk and his belief that any city that doesn't have a Stop and Frisk policy is "doomed to failure." Wasserman also kept repeating the importance of community involvement and bringing the community together (and even seemed to take credit for the hundreds who came out to protest the Bratton contract), but neither in his time consulting with the OPD nor when he and the city announced a month ago that the Bratton hiring was a done deal (it wasn't) did he ever bring the community in. How are we as a community supposed to believe what Wasserman says when he's been so clearly dishonest this far?
Much more at the Facebook event page
"
IMPORTANT:
Go to: http://www2.oaklandnet.com/Government/o/CityClerk/index.htm to sign up in advance. Or came to City Hall by 5pm to make sure you get in.
Sign and if you don't wish talk you may cede your time to a comrade.
Item 20. Hiring 21 civilian police technicians
Item 21. Contract with Sheriff's Department for short-term assistance
Item 22. Funding for a Police Academy to train officers, to begin September 2013
Item 23. Contract with Strategic Policy Partnership, a law enforcement consulting group that includes Bill Bratton" <–WE NEED TO STOP THIS MAN FROM BEHING HIRED.
46349