"If I can't dance, I don't want to be part of your revolution." – Emma Goldman (supposedly)
On Jan 28, 2012 Occupy Oakland activists planned "Oakland Rise Up! Move-in Day", an action intended to result in the takeover of a large building to be converted into a community center. The Oakland Police Department responded to a jubilant show of community support and enthusiasm for community service by firing "less lethal" weapons and deploying explosives on a crowd which very clearly included children.
When:     January 28, 2013 @ 7:00 pm – 11:45 pm
Where:    19th & Telegraph
Telegraph Avenue & 19th Street
Oakland,CA 94612
… (complete writeup on Facebook page)
Nearly a year later, state repression of Occupy Oakland continues, our personal and activist relationships are severely tattered and torn, and noone can fix this but us.
Stay-Away orders remain on the books and continue to separate our community, keeping many of our most valued members away from events like #O25.
Let's meet up at 19th and Telegraph, throw the greatest fucking dance party that Occupy Oakland has ever seen, hold a speakout for stayaways, and if we feel comfortable with our numbers, embark on a peaceful and cathartic march past our old battlegrounds.
Let's heal our community and get back to doing what we all came together to do in the first place – draw attention to economic and social injustice, corporate control of politics, and the mother fucking banks.
Long live the movement, and Fuck The Police!
======
ATTENTION! People arrested on J28!
A class action law suit against OPD and mutual aid police departments is being filed! We need your stories, videos, twitter feeds, and anything else that can help piece together what happened on that day and the following days spent in Santa Rita and Glen Dyer. Particularly of interest: accounts of police brutality, felony charges, and situations where personal/medical needs were not met. Also, we are trying to track down all journalists (those with valid press pass) who were detained and/arrested at the Y.
Please contact ASAP Yolanda Huang at 510-392-2140, j28.legal@gmail.com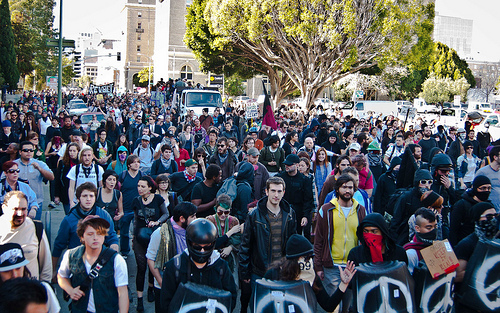 46670