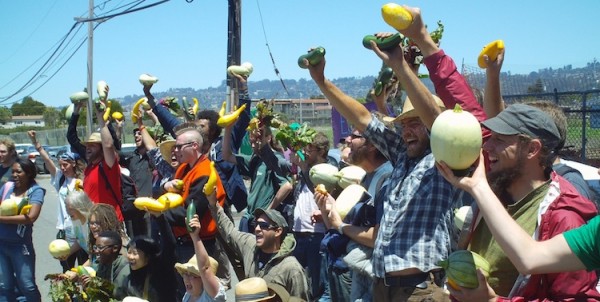 Gill Tract Farming Continues, UC Development Faces Referendum, Lawsuits, Whole Foods Withdrawal
Created on 30 September 2012
###FOR IMMEDIATE RELEASE###
SEPTEMBER 30, 2012
###
On Sunday September 30th, renegade farmers once again broke into the Gill Tract to tend to acres of food crops planted throughout a three-week protest on the land earlier this Spring.
Sunday's farming-action follows several critical developments in the battle to defend Gill Tract agricultural land from a controversial University of California development project.
On Wednesday September 19th, Alameda County verified a "Keep Albany Local" petition for referendum against the Albany City Council approval of the UC development project. Two days later, on Friday September 21st, Whole Foods, the anchor tenant in the plan for commercial retail, announced that the corporation terminated its lease agreement with the University Regents. Two separate groups of Albany residents also have lawsuits pending against the City of Albany for its allegedly illegal approval of the UC Environmental Impact Report.
On Tuesday September 17th Keith Gilless, Dean of the College of Natural Resources, introduced a plan for "metropolitan agriculture" at Gill Tract. His announcement (http://bit.ly/PrbmaM) ignored decades of coalition-wide efforts to engage the UC on community-supported urban agriculture at the site. http://nature.berkeley.edu/srr/BACUA/bacua_proposal.htm, http://gilltract.org/
Several statements from University officials endorse transparent democratic process around its plan for commercial development at Gill Tract. http://newscenter.berkeley.edu/2012/05/18/gill-tract-update/, http://newscenter.berkeley.edu/2012/05/14/gill-tract/
However, the University failed to include a single truly public meeting into its actual decision-making, not only for a development plan, but around appropriate use of the land entirely.
In response, Occupy the Farm announced a series of public town hall-style visioning sessions to form a collaborative plan for community-supported urban agriculture at Gill Tract. The first Town Hall will occur on October 10th, 2012, at 6 PM in 145 Dwinelle Hall on the UC Berkeley campus.
For more information, visit www.occupythefarm.org.
41325