Occupy 4 Prisoners is holding a retreat on Sunday, June 24th.
Our intention is to discover:
Who we are.
Why we are here.
What we are going to do.
We will explore these questions in the framework of building closer relationship with each other.  We aspire to gain a better understanding of who we are, individually and collectively.  We will explore our principles of unity; what brings us together.  And we will have beautiful food to share.
Time: 11-4ish
Location: Legal Services for Prisoners with Children/All of Us or None. 1540 Market St., Suite 490 San Francisco, CA 94102. (Market & Van Ness, about 4 blocks from Civic Ctr BART)
We welcome all who are moved to join us on the journey, especially those interested in working with us in the future.
Please R.S.V.P. to mollyruthb@gmail.com by 5:00 this Friday, as arrangements for food and time will be considered.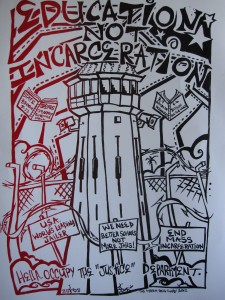 In solidarity,
O4P
"I wage resistance
to stay alive
I learn to search out freedom in the breath
my cells send out dendrites
to absorb the world and its offerings" – Marilyn Buck (1947-2010), Political Prisoner
A very many thanks to JP for creating and gifting the "Education Not Mass Incarceration" poster during our last action when we put the system on trial.
34471