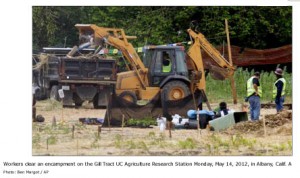 Followed by a Community Forum on Visions for Food Sovereignty and Food Justice
3 PM – Gather at the Gill Tract South Side: Monroe St. at San Pablo Ave
The Planter Box Rally will highlight that land access is fundamental to growing food in an urban environment. UC Berkeley may have forced the public off of the Gill Tract, yet still we farm. The community forum will contextualize the Gill Tract within the larger scope of food sovereignty and food justice issues that affect people throughout the Bay Area and beyond.
Come prepared to BUILD, PLANT and GROW on the Gill Tract South Side (AKA Albany Meadows).
We'll need more:
hand tools (drills, hammers, shovels, trowels)
seeds/seedlings – vegetables and wildflowers
and bring a friend (or two, or three)!
Farmland is for farming!
UC Police Assert Private Control Over Gill Tract Farmers Respond: Farmland is for Farming
" Farm raided: 5 PM reconvergence meeting Tuesday 5/15/12 at the Albany Community Center, 1249 Marin Ave."
Statement from Occupy the Farm:

Albany, CA – This morning (5/14/12), over 100 police officers armed with projectiles, batons, and pepper-ball guns descended on the Gill Tract Farm to attempt to force an end to efforts to reclaim the Gill Tract for community use.
The public land, which is managed by UC Berkeley's development arm known as Capital Projects, was reclaimed by Occupy the Farm on April 22 and has been used for community-friendly farming education for the three weeks since. Today, using all the power at its disposal, the University of California has reasserted its control over the land.
"This land has been fought over for decades," said Anya Kamenskaya, a spokesperson for the Gill Tract Farmers Collective. "UC needs to let go of control and supervision of this land. For decades, it has fenced off this land from use by the community. Today's show of force is merely another in a long history of the UC's rejection of community access to this prized piece of farmland."
Using a mixed force made up of police from eight different UC campuses and with Alameda County Sheriff's Department, police blocked traffic, barricaded the Gill Tract, and arrested nine people. Two of the arrestees had entered the farm after the raid began, to water plants. Seven additional people were arrested while watching the police operation from San Pablo Avenue.
UC representative Dan Mogulof incorrectly told media that ten people were sleeping on the land at the time of the raid. However, the Gill Tract Farmers Collective ended its encampment on the morning of Saturday May 12th by moving all camp infrastructure to outside of the Tract. No one was camped on the land when the police force surrounded and enclosed it. Consistent with agreements made with faculty and adjunct research scientists over the past three weeks, every effort was made by the Gill Tract Farmers Collective to make room for the need to plant their research crops.
The Gill Tract Farmers Collective has called for a reconvergence at the Albany Community Center, 1249 Marin Ave., at 5 PM tomorrow, Tuesday May 15th.
Farmland is for farming!
Tweets from morning of 5/14/12:
"10 minute dispersal order at #occupythefarm. Farmers are getting to farming. Request support immediately." 6:28am
"Farm being raided now. 50 UCP with riot gear. Come NOW!" 6:53am
"All UCPD armed with chemical agents. Large van to take arrestees. 50 outside farm on SP. 20 inside. COME NOW!" 6:55am
Streamer said that has not seen any NLG, and hope some are inside the farm.
Worthoftheworld arrested while streaming"  http://www.ustream.tv/recorded/22583724/highlight/263505
Photo by Susie Cagle: http://twitter.com/#!/susie_c/status/202045213785600001/photo/1
For more info: http://occupythefarm.org/
31156