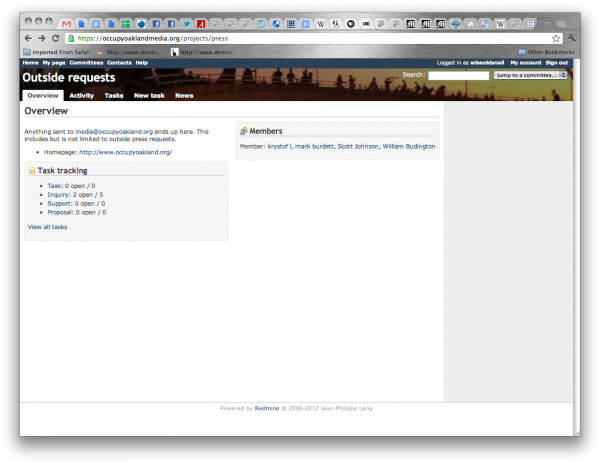 the new media committee has just published a statement

The Occupy Oakland Media Committee (OOMC) is a committee of Occupy Oakland* (OO) that makes use of the press, social media, multimedia, and other forms of media to connect with supporters by promoting actions events, workshops, and nurturing political dialogue. The OOMC will develop and adhere to policies regarding the following responsibilities:
Connecting outside press inquiries to current and relevant sources of information – rotating "spokespersons," contacts within committees, or document archives – primarily within OO but also within the greater Occupy movement.
Working with other committees to write, edit, and distribute press releases and articles to the media, Occupy journalists, and community organizations of interest.
Keep a list of press contacts and community organizations and other outreach resources.
Facilitating or giving aid to other committees in calling press conferences.
Using the official OO versions of social media platforms to support our mission. The social media policy will be made public.
Scouring media sources for journalism positively covering OO activities. Circulating those stories on to our supporters via social media, email, etc.
Producing media trainings and skill shares for OO.
Coordinating with the Web Committee to ensure that the OO website is serving the movement's informational and media needs, for example making sure that events are updated and accessible on the website.
The OOMC will develop relationships with members of the press, a general understanding (and evaluations) of the media outlets and reporters that cover OO, and lists of resources (human or technological) for media dissemination. The OOMC will interact with alternative and mainstream media outlets, including independent and Occupy journalists. Media committee members will adhere to the resolutions of the General Assembly (GA) resolutions, especially those relevant to the Media Committee. The OOMC will not generate its own opinionated content or maintain (web/technical/media) resources separate from official Occupy Oakland resources.
On March 4, 2012, the GA disbanded the OOMC, denouncing the February 25, 2012 publication and promotion of an irresponsible, racist and offensive article on the hellaoccupyoakland.org website.** Pursuant to this decision, the OOMC committee has been reorganized. Its role shall remain limited and the committee shall be accountable to the GA and Occupy Oakland as a whole, in the interest of preventing future abuses of its representational power.
* The committees and General Assembly of Occupy Oakland.
**The hellaoccupyoakland.org website is no longer operated by or affiliated with OO. This website remains online only because it was hijacked by the administrator, in defiance of our GA which voted to shut it down. The OOMC will not post to the site, promote articles posted on it, or cooperate in producing media intended for publication on the site.

this is a complete cut & paste of the statement, republished for the sake of allowing comment, which is blocked where it is currently published.  please discuss this, folks.  please see my comments below.  you know i speak the truth, and i publish the truth.
31218