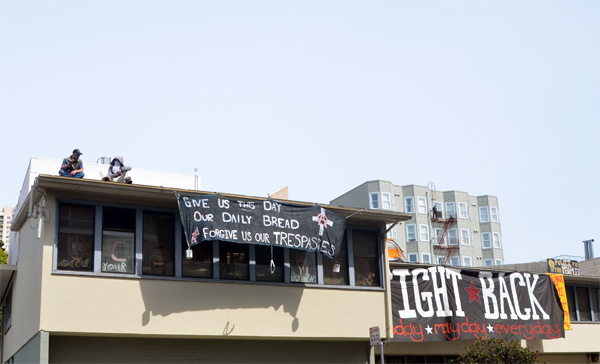 The SF Commune is calling for an emergency march which meets at 10 AM, Noon, and 5 PM for a GA. It will span from the Civic Center, to 888 Turk (Gough and Turk), to the occupied SF Commune building. Come join us! Bring food, water, and other useful things! Also, if you can't come, you can call the Archdiocese of San Francisco at: (415) 614-5500, and politely ask that they negotiate with us in person and that we claim sanctuary! Include that we are using this building to feed and house the homeless, are respecting the building, and that there are children in the building. We are also using it as a social center to provide services to the public, including free medical care! What would Jesus do?
Love and solidarity…
The SF Commune!
Photo by Daniel Arauz.
26400