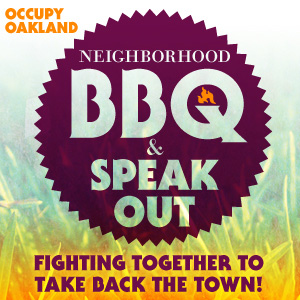 Occupy Oakland is having its last BBQ in West Oakland at Lil Bobby Hutton Park (De Fremery Park) at 18th and Adeline, from 3-7pm, this Saturday, April 7, 2012. Everyone has been so amazing and we really have been pulling it together; thank you so much for your efforts and contributions.
We will be cooking this Friday, April 6, 2012, at the First Congregational Church of Oakland on 27th and Harrison, from 11am-3pm. It was a lot of fun last time, so if you want to come help cook and meet everyone, please do!
If you want to make a dish for this last BBQ, rice and beans, a veggie dish, or a dessert would all be great.
Please contact: kitchen@occupyoakland.org for any questions or support you may need.
26820