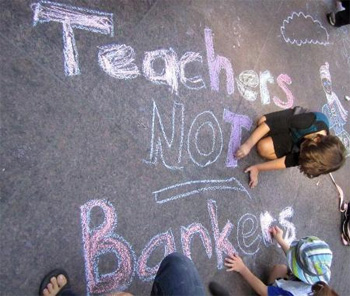 Wednesday, March 28, 2012
Fremont High School at 3:00 PM
OUSD building, Oakland at 4:30 PM
"Acceleration TSA"

–an idea whose time has come?

Teachers told they must reapply for their current jobs!
Or is it another hastily designed OUSD experiment on flatland students of color?
OEA members across the district have varying opinions on the merits of this idea.


BUT WE AGREE THAT:
NO member should accept the unlawful method by which Superintendent Smith unilaterally imposed yet-to-be-described working conditions upon our fellow members.
NO member will question that by refusing to communicate, collaborate, and problem solve with those democratically elected to safeguard our best interests, Superintendent Smith has made it easier to ignore member's rights in the future. If we fail to answer these divide and conquer techniques that undermine our collective strength, then we fail our bargaining team, and more importantly, we fail our kids.
NO member should suffer the indignity of having to apply for a job already held.
Your OEA bargaining team is preparing for negotiations with the OUSD for a new contract. How will you add strength to their efforts?

OEA SOLIDARITY ACTIONS
Join one or both actions on Wednesday, March 28, 2012.
3:00-4:00 – Fremont High School: 4610 Foothill at High Street, Fremont
4:30-6:00 – OUSD School Board Meeting – OUSD Building: 1025 2nd Avenue, Oakland
Honor joint OEA/OUSD agreements! Support your OEA bargaining team! Reject unilateral actions by Tony Smith! Wear OEA green on Wednesdays!
25652