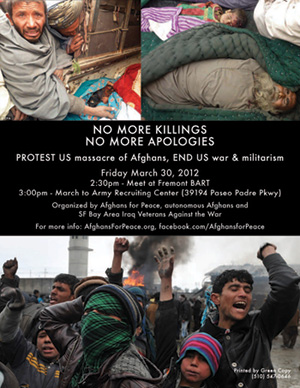 Protest the US massacre of Afghans and end the US war and militarism. No more killings. No more apologies.
Friday, March 30th, 2012
2:30pm – Meet at the Fremont BART.
3:00pm – March to the Army Recruiting Center (39194 Paseo Padre Parkway).
Why:
1) Protest the US massacre of Afghans in Panjwai, Kandahar, as well as all other atrocities related to this war.
2) Protest the US military recruitment of poor people in this country.
3) Raise awareness about and rally support against the "US/Afghan Strategic Partnership Agreement."
We'd like to clearly state that this is a NONVIOLENT direct action.
Organized by: Afghans for Peace, Autonomous Afghans, and SF Bay Area Iraq Veterans Against the War.
Endorsed by: Courage to Resist, Decolonize Oakland, Education Not Incarceration, Idriss Stelley Foundation, Occupy Oakland, San Jose Peace and Justice Center, and World Can't Wait SF Bay.
For more info: www.AfghansForPeace.org, www.facebook.com/AfghansforPeace, https://www.facebook.com/events/372239879462997.
25671