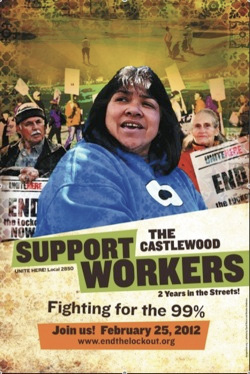 Support the workers at the Castlewood Country Club in their contract fight.
When: Saturday, February 25, 2012, 9:30 AM
Where: Downtown Pleasanton, corner of Bernal Avenue and Main Street
Transportation: Rides will be available from Oscar Grant Plaza at 8:00 AM. Drivers/cars are needed. We are also providing shuttles from Dublin/Pleasanton BART from 9:00 – 10:00 AM.
The two year anniversary of the lockout of the Castlewood Country Club workers is on February 25, 2012. We will be marching from downtown Pleasanton to the country club for a rally and protest. We are planning on bringing tents and occupying an unclaimed area adjacent to the country club in protest of the inhumane treatment of the workers who have been locked out in a clear attempt to break their union. We are also planning a mock counterprotest by the 1% (i.e. the country club members). Keep in mind that the goal is to end the lockout and get the workers back to work, so all actions should keep strategy, discipline, and accountability in mind when considering tactics.
20980