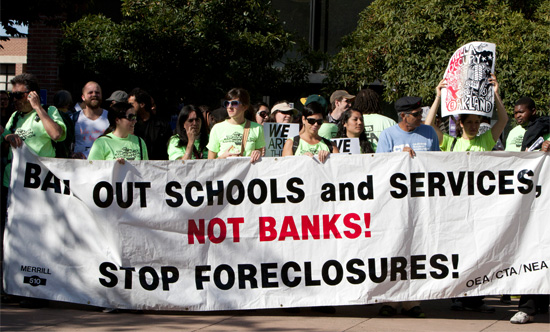 Occupy the Hood stands in solidarity with the Concerned Parents & Community Coalition and all people that really love Oakland to say:
Bail Out Oakland Schools, Not Wall Street Banks!
Wednesday, February 8
4:30pm – Community Rally outside the OUSD Building
5:00pm – Action inside the School Board
OUSD Administration Building
1025 Second Ave. (at 10th Street)
(Two blocks from Lake Merritt BART)
Our Demands:
1) No school closures! Keep the five elementary schools, and all our schools, open.
2) Refuse to pay the $70 million dollars that the State of California added to the OUSD's debt during the state takeover of 2003-2009.
3) Wall Street Banks (Bank of America, Wells Fargo, Goldman Sachs, and all other mega-banks) should use their bailout money to pay the debt for OUSD and all other public schools in California.
4) Protect all teachers and school workers. No union busting.
PARENTS. YOUTH. TEACHERS. COMMUNITY. YOU.
JOIN THE MOVEMENT!
And stay tuned for future Occupy the Hood actions on February 21 and March 1.
The struggle continues…
18783