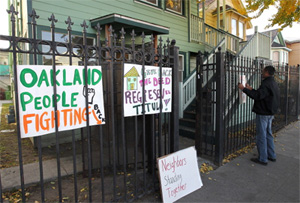 FORECLOSURE DEFENSE ALERT- Mitchell Action #2
OO Foreclosure Defense Working Group Calls for Occupy Oakland to Turn Out for Bank Pressure Action and Street Canvass
When: Tuesday, February 21, 2012, 3:00-5:00
Where: Gathering in Snow Park, Harrison at 21st Street, downtown Oakland
Members of Occupy Oakland, neighbors, and community groups respond to plea for help against gentrification, unjust dislocation, and foreclosure. We target the investor behind Chase Bank who owns Mrs. Katy's loan. There is a sale date set for March 14, 2012. Now we fight back!
Mrs. Katy, a great-grandmother and a retired postal worker who has been in her North Oakland home for 35 years, is facing the same old story: the bank wants her property and wants her out and homeless. She has pursued modification for 3 years. They have denied her by alternating from fraudulent pressure tactics, to dead end modification procedures, to just not giving a damn.
After our successful action at Chase Bank, we now know who the investor is who owns her loan, something they refused to tell her previously.
Various community networks are being called on to support Mrs. Katy Mitchell in her fight. On Tuesday, February 21, 2012, be prepared for perhaps getting loud inside the bank, or an informational picket, or a polite supporting delegation requesting that her loan be okayed for modification immediately. Our action will depend on the family's wishes, so come to participate in the pre-action briefing. As of the writing of this alert, we know part of the afternoons action will include teaming with the family and neighbors in canvassing pedestrian traffic with information and testimony on foreclosures, bank thievery, and how we are fighting back. There will be a press release, press event, and informational flyers with her story on it.
This is a public fight now.
For questions about the action you can text Brooke at: 510.863.0272 or email her at: grouchosuave@gmail.com.
19644