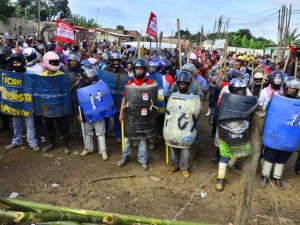 Leaflets from the residents read "A physical presence there is crucial at this time. The campaign of legal moes is very important, but the physical presence there is crucial at this time. Eviction can happen at any time. Tomorrow we want as many leaders and activists in this activity. We call on all organizations and movements to go out tomorrow to the city of San Jose Campos and collaborate in this act of resistance at Pinheirinho. This is our fight. 100% Pinheirinho!"
The Military Police Command is preparing a mega-operation with the riot police to comply with a court repossession. Favela Pinheirinho, one of the largest in the state of São Paulo, located in Sao Jose dos Campos. About 9,000 residents in danger of losing their homes are willing to resist any attempt to move out.
The repossession order was signed by Judge Marcia Loureiro, the 6th. Civil Court of Sao Jose dos Campos, in the midst of settlement negotiations already initiated by federal, state and municipal levels. There is a disagreement between the spheres of government in the hands of the Municipality of Sao Jose dos Campos, who refuses to sign the Occupation Program. The eviction would be the be the first step in the regularisation of the area.
The federal government has said it is willing to negotiate a settlement, but depends on the action of the City to amend the zoning of the area for Special Zone of Social Interest and prepare an urban project for the Occupation. It also depends on the judge Marcia Loureiro suspend the order of reinstatement.
Occupation leaders say that if the military police invade the Occupation, there will be strong resistance and serious risk of confrontation. Last week, residents came to occupy the Presidente Dutra Highway in protest against the threat of eviction. This week, the protest was in front of City Hall. Residents chained themselves to the fence of City Hall and there was confrontation with the Home Guard, who used batons to quell the demonstration.
Given the situation, residents are preparing for resistance, forming barricades and arming themselves with pieces of wood to defend the raid.
"If the military police to invade the area, the country runs the risk of witnessing a great tragedy, repeating stories like Carajas in 1996 and Occupation Real Dream in Goiânia in 2005, when dozens of people died in conflict with the police. " The residents of Pinheirinho will not leave their homes and are willing to fight.
Pinheirinho was occupied eight years ago and belongs to the estate of Selecta S / A, owned by financial speculator Naji Nahas. Before being occupied, it was a land that was abandoned for 30 years, with over 1 million square meters. The estate of Selecta has a debt of more than $ 15 million in taxes to the municipality of Sao Jose dos Campos.
MR
http://www.indybay.org/newsitems/2012/01/22/18705319.php
16367