Called for by Occupy Oakland General Assembly 11.17.11
The last week has seen a coordinated attack against numerous major occupations in the US– Portland, Phoenix, Salt Lake City, Seattle, Denver, Oakland, San Francisco, New York and other cities across the country.  Several news reports have indicated that these simultaneous attacks were directed by the Department of Homeland Security, in consultation with local mayors and police departments. It should be clear to us that this is happening not because we are weak, but because we have become a real threat to the status quo, and the US government fears the new, more forceful direction the Occupy movement has taken in recent weeks. If our adversaries in the government can coordinate a national offensive against the Occupy movement, then we too can coordinate a response that draws upon the considerable depth, breadth and diversity of our occupations. Occupy Wall Street's national call for a two month birthday celebration on November 17 is an important step in this direction.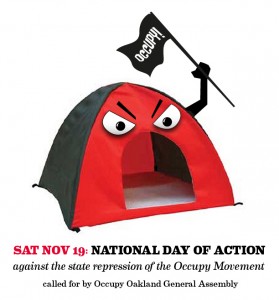 To continue this national momentum, we call on all other occupations to join our day of action against state repression on November 19. Oakland has already decided that, after our second eviction from Oscar Grant Plaza early Monday morning, this is the day for us to expand and re-establish our occupation. However, we encourage other occupations to participate whether they have been attacked recently or not. Each occupation is encouraged to interpret this call and respond to it as it sees fit. Through a day of coordinated actions we can demonstrate and build upon the potential that the occupy movement holds in fighting the ruling authorities.
6424