Calendar
9896
Jul
27
Mon
Tax the Rich to Fund Schools and Services: Three Parts

@ ONLINE, VIA 'ZOOM'
Jul 27 @ 7:00 pm – 9:00 pm
EBDSA members have the opportunity to help pass the largest tax increase in history on California's wealthiest commercial property owners, raising $10-12 billion per year for public education and social services. With the Movement for Black Lives uprising deepening into the call for defunding the police, it will be necessary to expand revenues required to build alternative, sustainable public services, and practices. Progressive taxation—especially taxing the rich—is an essential path to accomplish that goal. "Schools and Communities First" (SCF), on the November 3 ballot, is backed by labor and opposed by the most reactionary sectors of capital.
A three-part education series will provide background for EBDSA participation in the campaign. Part I reviews the story of austerity politics and increasing inequality in California with Prop 13—which SCF proposes to reform—from 1978 to the present. Part II looks at the history of public-sector unionism and how a left-wing labor-community coalition won Prop 30, a 'tax the rich' ballot measure, in 2012. Part III will supply an overview of the SCF campaign, and explore how EBDSA members can plug in effectively. Biweekly on ZOOM, beginning Monday, June 29, presented by labor historian Fred Glass for EBDSA Labor Committee.
Where: Zoom: https://us02web.zoom.us/j/81851574731?pwd=Y1RITkRZQjZPSFRvQmxoMENXeXpGUT09
67984
Aug
15
Sat
Strike Debt Bay Area Book Group

@ ONLINE, VIA 'ZOOM'
Aug 15 @ 4:30 pm – 6:00 pm
***>> EMAIL STRIKE.DEBT.BAY.AREA@GMAIL.COM FOR ZOOM INFO A FEW DAYS BEFORE THE MEETING. <<***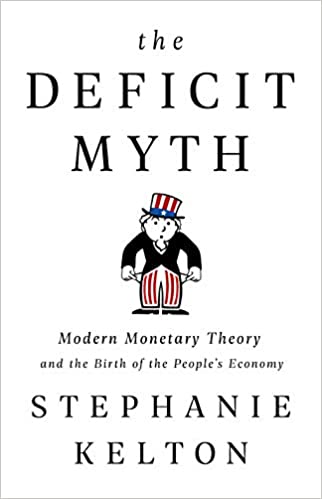 Strike Debt Bay Area hosts a non-technical book group discussion monthly on new and radical economic thinking. Previous readings have included Doughnut Economics, Limits, Banking on the People, Capital and Its Discontents, and How to Be an Anti-Capitalist in the 21st Century.
For our July, August and September discussions we will be reading  'The Deficit Myth: Modern Monetary Theory and the Birth of the People's Economy' by Stephanie Kelton. (Find it at your local bookstore or through this site.)
For July, we will have read the first two chapters.
For August, we will have read chapters 3, 4, 5 and 6,
For September, chapters 7 and 8.
The book is easy reading, and it would be easy to catch up.  Join us – all are welcome!
Stephanie Kelton's brilliant exploration of modern monetary theory (MMT) dramatically changes our understanding of how we can best deal with crucial issues ranging from poverty and inequality to creating jobs, expanding health care coverage, climate change, and building resilient infrastructure. Any ambitious proposal, however, inevitably runs into the buzz saw of how to find the money to pay for it, rooted in myths about deficits that are hobbling us as a country.
Kelton was chief economist on the U.S. Senate Budget Committee (minority staff) and an advisor to the Bernie2016 presidential campaign. Kelton is a regular commentator on national radio and television and speaks across the world at large gatherings of people interested in global finance, political economy and public policy. She has superb connections in all areas of print and broadcast national media. Her op-eds have appeared in The New York Times, The Washington Post, The Los Angeles Times and Bloomberg.
For July, we will also have read two shorter pieces, following up on themes we have taken up in previous readings:
67970