Calendar
9896
Jul
1
Sun
**BLACK BLOC** FTP March! Bloc up!
Jul 1 @ 2:00 am – 6:00 am
Come out and protest the white supremacist, patriarchal, heterosexist violence of the OPD! OPD murders our community with impunity! This will be a black bloc action–WEAR ALL BLACK AND COVER YOUR FACE AND HEAD!!!!!!!!!!
Justice for Alan Blueford, James Rivera Jr., Luther Brown, Raheim Brown, Brandy Martell, CeCe McDonald, Kenneth Harding, Oscar Grant, Eric Vigen, Ricky Miranda, Rita Elias, Francisco Moran, Sammy Galvan, Richard Robles, Elizabeth Kropp, Luis Gutierrez, Joey Pinasco, Craig Prescott, Manuel Dante, Kenya Bosley, Jesse Watson, Brian "Deacon" Turner, Ernest Duenez…………..
http://pastebin.com/NFSnUQ7H
35052
Apr
2
Thu
WiFi Mesh Meeting Thursdays 7:30pm-11:30pm

@ Sudoroom at Omni Commons
Apr 2 @ 7:30 pm – 11:30 pm
WiFi Mesh General Meeting
When: Every Thursday @ 7:30pm – 11:30pm
Where: 4799 Shattuck Avenue – Oakland, CA
(corner of 48th and Shattuck)
Contact: Jenny Ryan – email –
We're building a community wireless mesh network!
A wireless mesh network is a network where each computer acts as a relay to other computers, such that a network can stretch to cover entire cities. Our goal is to create such a free mesh network that is entirely controlled and operated by the community!
Want to help create an alternate means of digital communication that isn't governed by for-profit internet service providers? Join us for the mesh hacknight!
We have crowdfunded the purchase of our first 100+ routers and are preparing to deploy the first nodes in Oakland. We need people with both technical and non-technical backgrounds to help with everything from local community involvement and crowdfunding to mounting wifi routers on buildings and developing software!
Last Thursdays are General Meetings for planning, strategy, and orientation for new folks.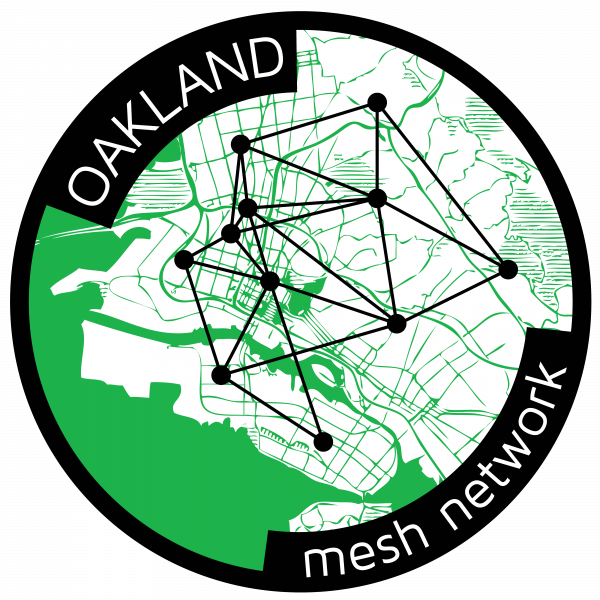 58506