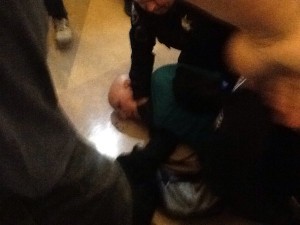 An unidentified man, part of a group of rent control advocates that had not been allowed into the 11/4 Alameda City Council meeting due to the room being at capacity and had crowded into the hall outside, was thrown to the ground by two Alameda Police officers before being arrested.
He apparently had his face smashed into the floor because after he is removed the video shows a signficant amount of blood on the surface.
Below are a few tweets from the meeting and a video of the takedown.
The special meeting of the Alameda City Council was called to discuss the spiralling rent situation in Alameda and options for doing something about it, such as a temporary moratorium on rent increases and further down the road a rent control ordinance.
According to EastBayCitizen, John Klein, was also arrested in the altercation. He is a member of the Alameda Renters Coalition steering committee and member of the Oakland Privacy Working Group. Klein appeared calm after being handcuffed. The renters groups says he was charged with resisting arrest and assaulting a police officer.
The meeting went on past midnight. The Council ultimately passed a weak moratorium:
ALAMEDA — The City Council has imposed a 65-day moratorium on rent increases of eight percent or higher after a special meeting that stretched more than seven hours, attracted 90 public speakers and saw two men arrested as passions flared.
The council's unanimous decision early Thursday morning also halts no-cause evictions within the mandates of state law for the same period.
Hallway leading to Alameda City Hall chambers just before a renter was dragged, slammed to the ground by Alameda PD. pic.twitter.com/wrErm1CKKn

— Steven Tavares (@eastbaycitizen) November 5, 2015
Chamber filled with landlords forced renters to watch on tv near front door of City Hall. #Alamtg pic.twitter.com/TVJdQetAm6 — Steven Tavares (@eastbaycitizen) November 5, 2015
Another video from a different perspective showing the takedown and John Klein arrested and held.
59875