Urban Shield is the largest SWAT training & war-weapons expo in the world. We will gather on September 11th, across communities, to end it & resist police militarization around the world!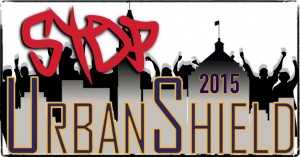 Join the Stop Urban Shield Coalition to say NO to policing, militarization and state violence!  We will be rallying at the Alameda County Sheriff Office on 1401 Lakeside Drive in Oakland across from the main library at 4PM on FRIDAY, September 11th 2015.  There will be some sort of food-like substance across the street near the Camron-Stanford House at 5:15ish.
From September 11th – 14th, in Pleasanton, and across Alameda County, Urban Shield, a trade show and training exercise for SWAT teams and police agencies will bring local, national and international law enforcement agencies together with defence industry contractors to provide training and introduce new weapons to police departments and security companies. It is the mostly funded by Department of Homeland Security through Urban Areas Security Initiative (UASI)
While Urban Shield is just one front in the fight against the state's attempt to militarize every aspect of our lives – from its war-making here and abroad, to the increasing presence of police in our schools, to the systemic murder of Black and Brown people at the hands of police – stopping Urban Shield would be a major victory against this growing trend of militarization in cities everywhere, from Oakland to Ferguson to Baltimore.
Join us in resisting violence against our communities and in fighting for genuine visions of justice, safety, and self-determination.
Organized by American Friends Service Committee, Arab Resource & Organizing Center, Bay Area Latin America Solidarity Coalition, Civilize the Cops, Code Pink, Critical Resistance, International Jewish Anti-Zionist Network, Iraq Veterans Against the War, Justice for James Rivera, Million Hoodies, Oakland Privacy Working Group, Oscar Grant Committee, Palestinian Youth Movement, Restore the 4th, San Leandro-SAFE, School of the Americas Watch-Oakland & San Francisco, UAW Local 2865, War Resisters League, Xicana Moratorium Coalition
 Petition:
http://www.thenation.com/article/stop-urban-shield-join-a-grassroots-campaign-to-fight-police-militarization/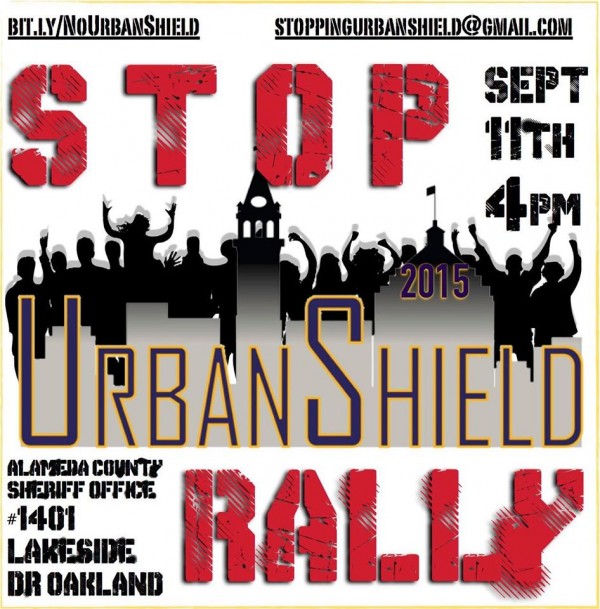 Folks interested in learning more about Urban Shield and the opposition to it can watch some discussions about it from the Urban Shield Teach-In held by the Mount Diablo Peace & Justice Center on Thursday, September 3rd at the Mount Diablo Unitarian Church in Walnut Creek.  Comrade Ali was able to get some footage of a few of the speakers, including George Lippman, Sharon Adams & Gerald Sanders.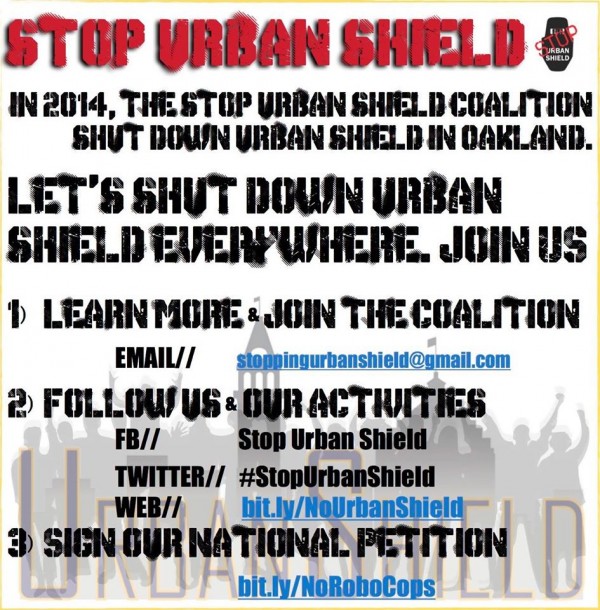 59500