As early as next month the Oakland Zoo is going to start throwing up 8′ fences topped by 3′ of barbed wire around perhaps the most lovely park on the western flank of the East Bay hills and excluding the public from it forever unless you pay big bucks to visit the newly constructed paved roads, 50 structures, 15-car gondola, vistor center or high-end restaurant.  So I'm leading a little hike Saturday, March 14th so we can see what we are about to lose unless we fight back.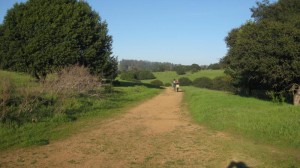 BACKGROUND
Knowland Park is a 453 acre parcel granted to the city of Oakland in 1949 with the proviso that it always remain a public park. It is a beautiful expanse of live oak woodland and grassy slopes with amazing vistas, festooned with rare and beautiful native plants and wild life. Most local residents know Knowland Park solely as the site of the Oakland Zoo, located on 100 acres of Knowland Park on its western flank near Highway 580. The zoo is run by a private non-profit, the East Bay Zoological Society (EBZS), but funded by over 1.5 million dollars of public money every year, as well as high ticket prices, $15.75 & $8 parking with no free days for the general public (there are apparently annual free days for senior citizens). The Zoo also tried to pass a 25 year parcel tax last fall, Measure A1, which would have assessed $12 annually on all properties in Alameda County from the most humble shack to the most palatial mansion or sprawling apartment complex, but it didn't get the required 2/3rds vote.
Oaklanders could be forgiven for believing that there is no public access to Knowland Park except the Zoo. The city doesn't post online information about Knowland or post signs to the trail heads, and the Office of Parks & Recreation didn't even list Knowland as a city park until 2012 after activists repeatedly demanded it. I suspect this is because the Chamber Of Commerce has been planning to develop this region for decades. For years I drove around the park and tried to find trail heads, and only discovered a single fire road that paralleled Golf Links Road in the main part of the park and a small network of fire roads on the eastern part of the park, accessible off of Skyline Blvd (this part of Knowland doesn't directly link up to the rest of the park, which lies west of Golf Links Road).
But a few weeks ago I discovered the there were indeed some directions & maps to the area hosted by the Save Knowland Park folks who are attempting to halt the expansion of the Zoo into the rest of the park.  So I started exploring the area and was just bowled over by how enchanting it is, by far the most lovely grassy, oak-clad hill sides I've seen in the East Bay, with some of the most incredible views anywhere. (FWIW, I've hiked just about all the trails I can find within a 30 mile radius of O-town, and I will grant that for seasonally green grassy hills the northern part of Wildcat Regional, the Bort Meadow area of Chabot RP, Mission Peak, Garin, Briones, Carquinez Straits, Pleasanton Ridge, Las Trampas, Coyote Hills, Diablo, Sunol Regional, Del Valle, Morgan Territories, etc. all have their charms, but this place completely blows them away, I felt like a Hobbit traipsing through the Shire, except with views of the Bay Bridge, the GG, Richmond Bridge, downtowns SF & Oakland, etc.)

When I first heard about the Save Knowland Park movement last fall I thought, meh?, I don't have much use for a smallish zoo that never has free daze, and I voted against the parcel tax, but how bad can it be?  They are only gobbling up another 53 acres or so, only a eighth of a park that is basically not open to the public anyway. And what, exactly, has the endangered Alameda whipsnake done for me personally recently? I figured the ruckus was largely NIMBYism from the relatively well-heeled neighbors who didn't want their viewscapes mucked with, combined with an excessive attachment to a few local rods of chaparral while we are experiencing the biggest mass extinction event since the K-T boundary.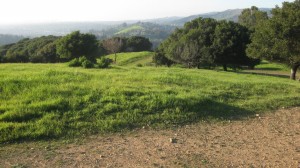 But it turns out that the the zoo is planning to develop the vast majority of the publicly accessible parts of the western section of Knowland Park, as well as fencing off another 22 acres from the public as a "conservation easement". This hardly seems like mitigation, they are taking land that is now protected from development, and excluding the public from its own turf in order to enrich the local contractors and build a bunch of new structures & roads, oh, and incidentally, further build out the zoo for the affluent minority who can afford to spend 2 hours of minimum wage per household member, plus another hour for parking.
So why did the city council vote 6-2 to allow this taking of public land with no environmental review last fall?  (Kaplan & Kalb voted against it, for those of you keeping score at home) And how can a city which can't keep toilet papers in its public school bathrooms afford $61 million dollars to expand a zoo that most lower-income residents can't even afford to visit?  Well, guess who funds the city councillors' election campaigns?  Yup, developers and contractors. And most of the bills won't become due until long after the current crop of council critters are out of office and counting the money they made from flipping properties with the help of "nonprofit" corporations.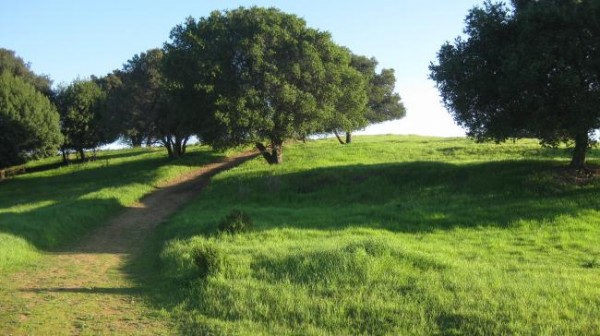 THE PLAN FOR SATURDAY
So I'd like to meet folks at OGP (14th just west of Broadway at City Hall) at 2:30 PM Saturday morning, March 14th (3'14: Occu PI Day- and yes, I have a little reality distortion field about what exactly constitutes mourning).  It would be good if folks could give me a call at (510) 763-0591 or (415) 623-6473 (cell) or email me at biow  AT riseup  DOT net so I know about how many folks are planning to attend and can arrange to have enough car space and stock-piled liquid refreshment on the hill.  Then we can car pool to Knowland Park, about 17 minutes away from the plaza. If folks that want a bit more of a hike can join me at the 106th Street entrance to Knowland Park and amble up the hill through the zoo parking lot and past the zoo's new (2012) veterinary hospital.  The rest can join my first wife Kathy and park on one of the roads off of Malcolm Avenue that lead to the higher entrances to the tract. I selected Snowdown Avenue because it reminded me of Edward Snowden.  Both groups can rendezvous at a spot on the hill and have some beverages, and maybe a sandwich, and then hike over to see the bison & tule elk paddock and the current gondola, and then walk around the rest of the area that is slated for development. We should be back at Snowdown Ave. by 5 PM, and can discuss what actions we can take to stop this rampant development.
Please bring comfortable shoes, cameras, and whatever medications you need, I will have sandwich fixing and beverages cached at the rendezvous. Folks who are malnourished can repair to Slothaven (my humble abode) later for swine & beer.
LEARN MORE:
http://www.eastbayexpress.com/oakland/zoo-gone-wild/Content?oid=4059113&showFullText=true   Zoo Gone Wild, East Bay Express
http://www.saveknowland.org/wp-content/uploads/2014/09/FAQ-Sheet-Updated-Sept2014.pdf
http://baynature.org/2014/11/17/conservationists-take-knowland-park-controversy/
http://bayleafnewsletter.org/wp/saving-knowland-park-november-2014/
58305