No, it's not $4.5 million.  It's not even the $600K settlement that Kayvan Sabeghi reached.  But $25K and attorney's fees for being shoved to the ground by crazed OPD officers on January 28th, 2012 is just one more indictment of  Jean Quan, Deanna Santanna and the entire out of control policing system in Oakland.
As the San Francisco Chronicle reports
The Oakland City Council earlier this year agreed to pay $25,000 to Joanne Warwick, who now lives in Detroit. The council is expected to give final approval Tuesday night to pay an additional $15,000 in attorneys' fees to Warwick and her lawyer, Bill Simpich. The city is admitting no wrongdoing in the case.
Warwick, 50, said she was pushing her bicycle and marching with Occupy Oakland protesters in the city's downtown on Jan. 28, 2012, when an officer shoved her in the back near Ninth and Madison streets. In an interview Tuesday, Warwick said the police had falsely accused her of delaying the officers with her bike.]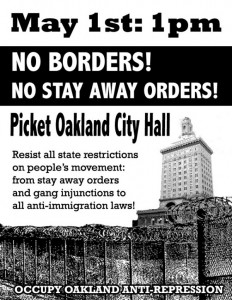 Before her charges were ultimately dismissed, Warwick was issued an almost inexplicable stay-away order from Oscar Grant Plaza insofar as the incident took place nowhere near OGP (it happened at Ninth and Madison). At least a dozen people were issued such stay-away orders resulting from actions that day, and many more were demanded and obtained while Occupy Oakland protests were active in 2011 and 2012 in efforts to squash dissent by keeping people from "organizing" at the plaza. (GA's were moved to the park near 19th & Telegraph, outside of the stay-away order limits, as a result).
Below is video of the incident taken by N. Baban. The shovedown and subsequent arrest begins about 1 min, 10 sec into the clip. Seems plausible that there would never have been any kind of settlement without the video.

On Occupy Oakland #J28 Move-in Day march, Officer Rodney Kirkland, OPD badge #119, SHOVED a woman off her bike as the riot-line advanced past her, and they arrested her. I later witnessed Kirkland swat a cam-phone out of a protester's hand while he was filming an arrest, but I didn't save the footage.

Note: the lawsuit resulting from the kettling and false arrest of some 400 marchers on the evening of J28 is still awaiting either settlement or trial.
56857