The nationwide boycott of Staples stores because of the continued presence of Post Office counters therein – served by underpaid and untrained Staples employees instead of living-wage Post Office workers, continues.  The American Federation of Teachers, the California Teachers Association and many other unions have joined the American Postal Workers Union in vowing to boycott Staples.  Teachers, who often buy supplies at Staples just before school begins anew are particularly being urged to support the boycott through their unions.
Locally, the camp out in front and on the side of the Berkeley Staples at Shattuck & Durant continues 24/7, with peeps from First They Came for the Homeless holding it down. They've been there for more than 50 days!
Berkeley Post Office Defenders just took out an ad in the Daily Cal urging Cal students, many of whom trot down to the Staples store just a few blocks from the edge of campus for school supplies, to also support the boycott.  Here's the ad.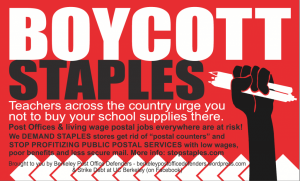 In other big news, the Berkeley City Council is – finally – one step away from passing a Zoning Overlay Ordinance that will rezone the downtown Berkeley Post Office and other Historic buildings near it so that they cannot be used for commercial purposes, only civic ones.  On Wednesday, August 27th, 2014 the Berkeley Planning Committee unanimously passed the Ordinance, thereby clearing the way for the City Council to vote on it September 9th, 2014.
The Ordinance had been dead in the water, killed last winter by a majority on the City Council who, despite pledging undying fealty to the concept of saving the Berkeley Post Office, were unwilling to do the one concrete thing the City Council could do to help.
Enterprising activists from Save the Berkeley Post Office and Berkeley Post Office Defenders then united with others trying to get a Downtown Zoning and Development initiative (now Measure 'R') on the ballot in November, inserting the Post Office Zoning Overlay into the initiative.  In the incredibly short time of three weeks more than 4000 signatures were gathered – enough to force the composite measure onto the ballot.
With the highly popular "Save the Post Office" provision inserted Tom Bates, the Mayor of Berkeley, went into panic mode.  As much as he disliked the Post Office Zoning Overlay Ordinance, he hates beyond measure the non-Post Office Downtown Initiative provisions.  He came up with the strategy of having the Berkeley City Council pass the Zoning Overlay Ordinance so that he and other opponents of the Downtown Initiative could argue there was no need to vote for the Downtown Initiative because the Post Office was already "saved."  Suddenly, the entire City Council and the Planning Commission lined up behind the idea.
So it goes.
Berkeley Post Office Defenders meets every Monday (but not on Labor Day, Sept 1st) at 6:30 PM on the steps of the (still not sold, and still a Post Office) downtown Berkeley Post Office on Allston Way.
56525