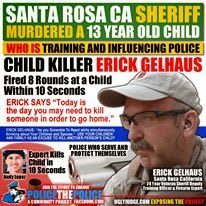 Slain by a Sonoma Sheriff's Deputy who believes he's perpetually in the "kill zone", Andy Lopez of Santa Rosa, CA will have no justice in death. His executioner, Eric Gelhaus will have to live with whatever conscience he dubiously possesses, as no jury will judge him.
  The Sonoma County District Attorney's Office announced Monday that it will not file criminal charges against a sheriff's deputy who shot and killed 13-year-old Andy Lopez.
  District Attorney Jill Ravitch said … that investigators concluded Deputy Erick Gelhaus "fired his weapon in response to what he honestly and reasonably believed was an  imminent threat of death to himself or others.
Let us not forget one of Gelhaus' more memorable journal entries:
In one revealing thread, forum members debated whether the use of force is justified if someone brandishes or fires a BB gun at another person.
Gelhaus chimed in, writing that "It's going to come down to YOUR ability to articulate to law enforcement and very likely the Court that you were in fear of death or serious bodily injury… I think we keep coming back to this, articulation — your ability to explain why — will be quite significant," Gelhaus wrote.
Nor the grief of Andy's parents so many months now ago.
"My son, my beautiful son," cried Rodrigo Lopez during the viewing service held Sunday at a Windsor mortuary and attended by more than 1,000 people.
And a mother's grief kept Sujey Lopez bent over her son's open casket, her arms cradling her son's face for more than eight hours during the day-long visitation.
56170