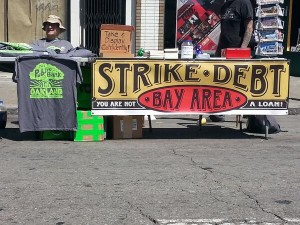 Strike Debt Bay Area made its presence known at First Friday this Forth of July, featuring copies of the Debt Resisters' Operations Manual, T-Shirts advocating for a Public Bank of Oakland, Occucards and a Strike Debt Bay Area tri-fold describing its ongoing projects.
For any of the above, or to get involved, contact Strike Debt Bay Area at strike.debt.bay.area@gmail.com, check out the web page, facebook page, twitter feed, and/or come to the next meeting on July 19th at 3:00 PM at or near he Oscar Grant Plaza amphitheater.
Read about the history of SDBA and current projects: Making Debt a Political Issue. The Annals of Strike Debt Bay Area.
The Occucard rack. pic.twitter.com/Y3vSb5nFLT

— Strike Debt Bay Area (@StrikeDebtBA) July 5, 2014
56153