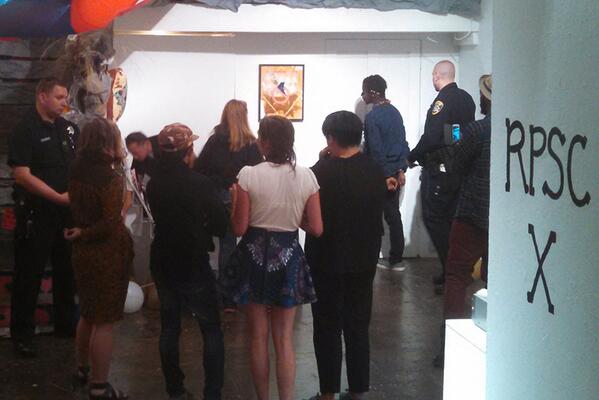 On June 6th, the same weekend that a 15 year old girl got shot and killed in a drive by shooting, undercovers and OPD uniformed officers made sure that one of the deadliest criminal gangs in Oakland, the Rock, Paper Scissors collective, was taken down for the heinous crime of SERVING COMPLEMENTARY WINE AT AN ART SHOW.
On the evening of June 6 … the Rock Paper Scissors Collective was celebrating their 10-year anniversary at their gallery…  A table in the back of the space included free refreshments, snacks, and a few bottles of wine for those who came in that night. It's not uncommon for art galleries to offer glasses of wine to patrons at special receptions. At a little past 8pm, however, two undercover or plainclothes agents of the California Department of Alcoholic Beverage Control came into the RPS gallery and started asking questions about the wine. The agents pulled badges out of their shirts and a volunteer who goes by "D" was handcuffed and charged with a misdemeanor for serving wine… Shortly after arriving… the ABC agents called in two Oakland police officers to assist them…
There are no lengths great enough and no hoops big enough to prevent Oakland's politicians from demanding more police officers – using rhetoric so full of hot air that City Hall is in danger of floating off (to the chagrin of few, it must be admitted). Yet these same politicians go to art galleries and sip vino, participating in the very criminal activities that the City's police are working tirelessly on overtime to thwart. It is almost as if there was a grand conspiracy to create the need for more OPD hires by encouraging art galleries to take up residence in Oakland so that there would be a need to raid them.
Meanwhile, in East Oakland, "No arrests have been made in the slayings."
55998