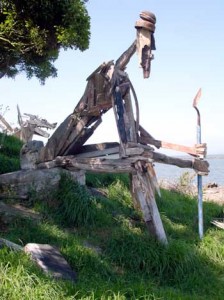 More than three months have passed since the City of Albany "began operations" to evict some sixty or seventy otherwise homeless people living on the Albany Bulb.
Since then two lawsuits have been filed to stop them, Albany has erected a scorned temporary shelter that cost $300,000 and which has seen almost no use and which none of the Bulb residents chose to move into, one person's residence was dismantled, four people have been provided with more permanent housing, and most of the Bulb's denizens are still out there on the wild and beautiful peninsula-created-from-construction-debris known as the Albany Bulb.
For how much longer is anyone's guess.
The first lawsuit centers of disability rights.
The Albany Housing Advocates, April Anthony and 28 other Bulb residents are suing the city to delay the eviction. The plaintiffs say physical or mental disabilities prevent them from using the city's temporary shelter that opened in late November, and they should have more time to find permanent housing, preferably in Albany.
The lawsuit argues the city's plan violates the Americans with Disabilities Act, 4th Amendment protections against unreasonable search and seizure, and the 14th Amendment right to due process.
The second on Albany's refusal to honor its state-imposed obligations on housing:
Affordable housing is the subject of another lawsuit concerning Albany's obligations to the poor and homeless. This one is in Alameda County Superior Court.

State law requires all California cities and counties to plan for housing at all income levels. It's called the housing element of the general plan, and their due approximately every seven years. Albany's last approved plan was filed in 1992. The city turned in an updated draft for the 2007 to 2014 period in October – more than a little late.
Albany has said that it won't cite or arrest those who are challenging the City on disability grounds for the nonce.  But that
leaves open the possibility of citing or arresting those individuals for other reasons.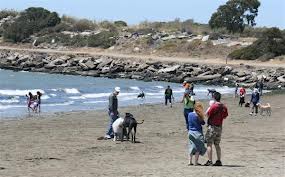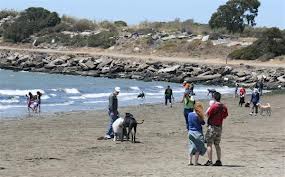 And says nothing about others who are not disabled and otherwise homeless, merely otherwise  homeless.
There is nothing about the Albany Bulb that requires changing. It is a perfect place for dogs to run on the beach, people to walk on the trails, and those wanting an awesome view of San Francisco and the Bay to make their way out to its westermost edge. It is a community of people with nowhere else to go who have found a home.
The government and people of Albany should be ashamed (but they will not be) for what they are trying to do.
Check out the excellent KQED essay from which some of the information herein is taken.
Another piece from a few months ago: Albany, CA to Evict 70 People. Because. Cruelty.
54477