Wednesday, August 28, 5:30pm, Oscar Grant Plaza
STOP THE WAR ON YOUTH OF COLOR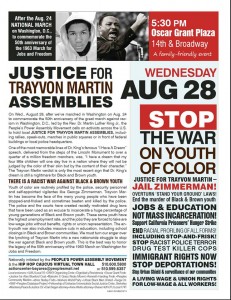 Demands:
STOP THE WAR ON YOUTH OF COLOR
JUSTICE FOR TRAYVON MARTIN – JAIL ZIMMERMAN!
OVERTURN 'STAND YOUR GROUND' LAWS!
End the murder of Black & Brown youth
JOBS & EDUCATION
NOT MASS INCARCERATION!
Support California Prisoners' Hunger Strike
END RACIAL PROFILING OF ALL FORMS!
Including Stop-and-Frisk!
STOP RACIST POLICE TERROR
Drug test killer cops
IMMIGRANT RIGHTS NOW
STOP DEPORTATIONS!
Stop Urban Shield & surveillance of our communities
A LIVING WAGE & UNION RIGHTS
FOR LOW-WAGE & ALL WORKERS!
https://www.facebook.com/events/555052654557384/?notif_t=plan_user_joined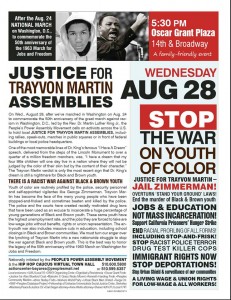 52310