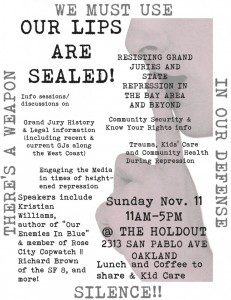 This will be a full day event with short presentations from folks with Grand Jury experience–Kristian Williams (author of Our Enemies in Blue), Richard Brown from the SF8, and others.
We will have short panel presentations broken up by small group discussions about:
– the current Grand Jury cases in the Northwest/environment of repression
– engaging the media and the public perception
– security culture/know your rights, learn what to expect in the case of a Grand Jury
– child-related legal support
– trauma care.
We will also provide child care, coffee, snacks, and lunch.
43401