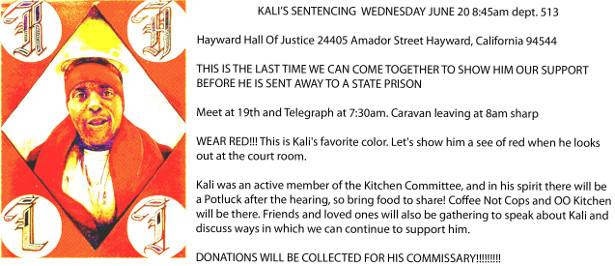 Kali was originally arrested December 16th on minor misdemeanor charges,
but because of a probation violation hold he was incarcerated for 4 days
before any charges were formally filed.
While most people would have been released from jail and asked to appear
for a future court date given the minor nature of the misdemeanor charges,
the DA denied Kali's release because of the county's assertion
that he is homeless.
At his arraignment Kali immediately notified the
judge that he did have a residence and provided the address. The staff
that could confirm this residence was gone for the day and it was
concluded that Kali would have to remain in jail until his next court date.
Meet at 19th and Telegraph at 7:30 am on Wednesday, June 20th. Caravan leaves at 8 am SHARP! more cars would be very much appreciated.
Address is: 24405 Amador St , Hayward, CA 94544
Wear red in support of Kali's favorite color!
Since he was an active member of the Kitchen Committee, there will be Coffee not Cops as well as a potluck afterwards.
34330