New Myth 20. By Willi Paul, openmythsource.com
– excerpt –
The new hot pools and food forest at the The Pulgas Water Temple are symbols of unity
and a spa for transitionites, and friends in the Light Network. The spa and governance
center is for community transmutation work and wisdom sharing for the 8 Tribes. The
site has been transformed by solar panel arrays and multiple layers of food forests,
semi-wild geese and compost heaps. Permaculture designers integrate land, water, sky
and plant life as a harmonious way station. Solo rituals often connect with feasts,
and political pow wows.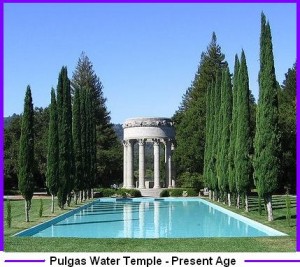 30519