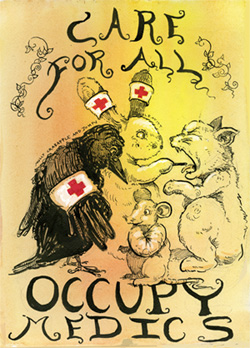 Where: The Holdout, 2313 San Pablo Avenue (@ 23rd Street), Oakland, CA
When: March 24 & 25, 2012, 10am-8pm
Cost: By donation, pay what you can. Scholarships available. No one turned away for lack of funds.
Contact: WFAforthestreets@gmail.com for more information.
Brought to you by the Occupy Oakland Medics Committee, this 20 hour course will cover basic patient assessment, how to recognize medical emergencies, and how to give first aid when help may be delayed. Developed for wilderness situations, this course is adapted for urban uprisings, and will include care for chemical weapons exposure, herbal first aid, and public health considerations for long-term occupations.
This class is dynamic, with a mix of lectures and active scenarios using makeup to simulate injuries. The primary instructor is a wilderness EMT, clinical herbalist, and Occupy Oakland medic. Other experienced medics and herbalists will participate in facilitating the workshop.
Certification is available through the American Red Cross for $20.
1.6 CEUs available through IACET for an additional $20.
We also have scholarships.
Please bring: clothes you can move in and get dirty, lunch (or tamale money), note taking supplies, and your questions and experiences.
23347