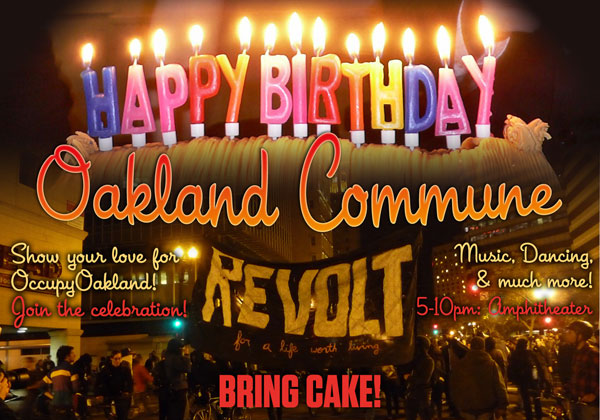 On Tuesday, April 10, 2012, Occupy Oakland is having its Six Month Anniversary Party at Oscar Grant Plaza! This event will start at 5pm. There will be a feast, concert, best of OO slideshow, speak out, and dance party. This is a big deal and we expect tons of people! Here are some ways you can help support the event and dinner.
– Bring rice, beans, lentils, salad, fruit, meat dishes, juice, sandwich fixins, or anything you want.
– Bring food donations: If you have access to donated food or you know a restaurant that wants to support this event.
– Bring a dish, big pot, or large containers that make it easy to serve. We expect to feed hundreds of people.
– Transport supplies: If you have a car, truck, or bike cart, and can help other cooks who don't.
– Sanitation: We are working on a low waste policy in the kitchen, which means we compost and rewash utensils. We always need help organizing waste bins (digging through trash) and taking away bags. If you have a green bin or trash can with extra room, you can volunteer to adopt a bag.
Sign up and spread the word!
Please contact: kitchen@occupyoakland.org.
If you have things other than food to donate, such as pictures or performers, please contact the OO Events Committee at: events@occupyoakland.org.
We LOve YoU!
26822