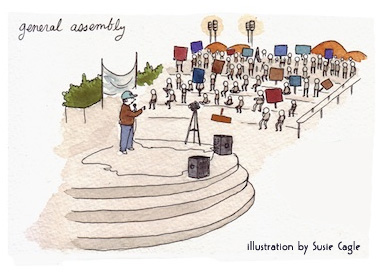 The Occupy Oakland Facilitation Committee is forming a working group and planning a convening to "Reimagine the General Assembly."  This will be open to any member of Occupy Oakland or the Oakland community.
The General Assembly has been a vital part of our movement even before the camps were established.  We've created a rich, diverse, and fluid process for radical participatory democracy and consensus-building.  As Occupy Oakland has evolved from the days of the camps to an ever-expanding movement of working groups and direct action, it feels useful to ask ourselves how the GAs can continue to best serve our community.  Over the months, the Facilitation Committee has received much feedback from the community, and we acknowledge that our GA process needs to be redesigned and refined. We want to do this with direct input from the OO and Oakland communities.  During the convening, anyone in the community can voice their desires, ideas, and solutions, as together we create and design a reimagined GA.
The Reimagine the GA Working Group will meet to plan the logistics of the convening and make regular reports to the General Assembly.  A facilitator from outside the current Facilitation Committee will help conduct the meeting. Meeting minutes will be available online.
The first meeting of the working group is scheduled for Friday, March 16, 2012, from 6:00 – 7:30 PM at The Holdout (2313 San Pablo Avenue, Oakland, CA 94612).
If you have any questions or would like to be involved in the working group, please contact the OOGAFC at: facilitation@occupyoakland.org.
23381