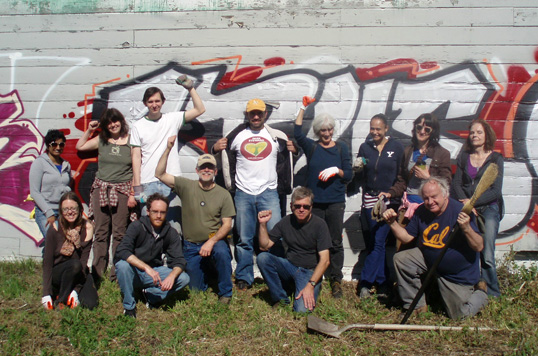 Neighborhood Cleanup – 10:00 AM – 32nd & San Pablo
Please come join us for our ongoing cleanup at St. Andrew's Park in West Oakland (in collaboration with the San Pablo Corridor Coalition). We will have plenty of equipment and safety gear, and there will be free coffee, doughnuts, and maybe even a barbecue. We're there from 10:00 AM to 12:00 PM, and those who wish to will have the opportunity to move on to other cleanup sites once we're done at St. Andrew's. Lookin' forward to it.
Community Garden Planning – 12:00 PM – 28th & Market
Together with a group of neighborhood organizers and concerned citizens, some folks from the Brooms Collective, Occupy Earth Day, and other committees and working groups of Occupy Oakland are planning to build a community garden from the ground up. We have planning meetings every Saturday at 12:00 PM, in a lot at 28th and Market Streets. Sometimes we even have a BBQ. We will canvass the neighborhood for support, determine the garden's decision making apparatus, and participate in skill shares. All are welcome to attend. See you there!
25274