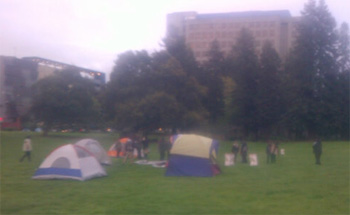 While hundreds of NYPD officers were deployed to intimidate OWS protesters last night in Union Square, Occupy Oaklanders organized a non-publicized occupation of an undisclosed location in solidarity with occupations around the country and to give Occupy Oakland a new organizational home base.
In the cover of night, a dedicated group of Occupy Oakland protesters were able to set up a new camp without any harassment from the overbearing local police force by keeping the location a secret, until this morning at about 7:15 AM. An estimated 30 people held the space throughout the night, while having a bit of fun trolling the OPD on Twitter with both clever and misleading tips as to where the new camp was being erected.
Read the full article on politicalfailblog.com.
Read a more detailed account of the ongoing Mosswood Park action at the Occupied Oakland Tribune.
24635