In light of increased efforts by conservative media/city government to villainize the movement, we must double our efforts to establish open channels of communication with Oakland's diverse community.  For that reason, we are asking everyone to participate in our short outreach survey (then pass this link on to friends and neighbors*):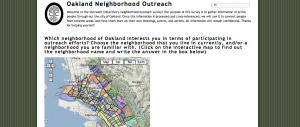 Information collected from participants will be used to:
1. Understand the needs and concerns of Oakland residents in order to represent them appropriately.
2. Facilitate neighborhood GAs
Community outreach should be one of the top priorities in our movement; it's hard but necessary work that needs to be done to propel and secure the growth of Occupy Oakland.  After filling this out, please pass this on to your friends and neighbors via social media, print media*, and good old word of mouth!  Asking for input from neighbors that feel disconnected from Occupy Oakland is especially important.
* Email us at outreach@occupyoakland.org for a printed version of the survey.  We also have flyers available!
Survey Link:
18755