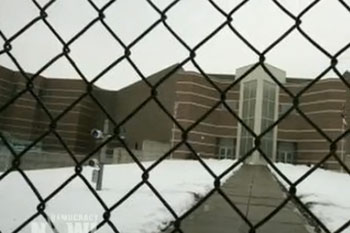 On Wednesday evening, February 22, 2012, twenty-five prisoners at Ohio's supermax prison ate their first meal since Sunday night. The hunger strike was inspired by the Occupy4Prisoners National Day of Action called for by Occupy Oakland. According to Siddique Abdullah Hasan, one of the hunger strikers, they initially intended a one day fast as a "symbolic gesture, a way of locking arms with the people on the outside."
By Monday evening, the prisoners had decided to issue demands and continue refusing food. Their demands included specific changes in the conditions of their confinement at the Ohio State Penitentiary (OSP), as well as calls for broader reforms. They resumed eating after Warden David Bobby agreed to grant a number of their demands including:
1. Reversing the recent decision to reduce outdoor recreation time for prisoners to a schedule alternating between 3 and 4 hours per week.
2. Improving enrichment programs, including new movies and religious movies for the prison television station.
3. Bringing the head dietitian from the central office in Columbus to review OSP food policies and hear prisoner complaints about inedible and scorched food.
4. A number of specific instances of price-gouging, skimping, and lack of variety in the commissary.
Hasan said, "Warden Bobby has been a man of his word in the past, so we don't anticipate the kind of situation going on in California," referring to the slow response to negotiations during last year's large prisoner hunger strikes in California. The prisoners consider their hunger strike a victory because they won these specific demands and also because they helped raise awareness of state and even nationwide issues regarding the artificial economy of state pay and commissary prices. Prisoners from across the institution participated in the hunger strike, including Siddique Abdullah Hasan, a Muslim Imam who has been on death row fighting what he says is a wrongful conviction following the 1993 Lucasville Uprising.
More information about the Lucasville Uprising is available on a new website Hasan and other prisoners helped create at: LucasvilleAmnesty.org.
See the Democracy Now report on the Lucasville Uprising: www.democracynow.org.
22148