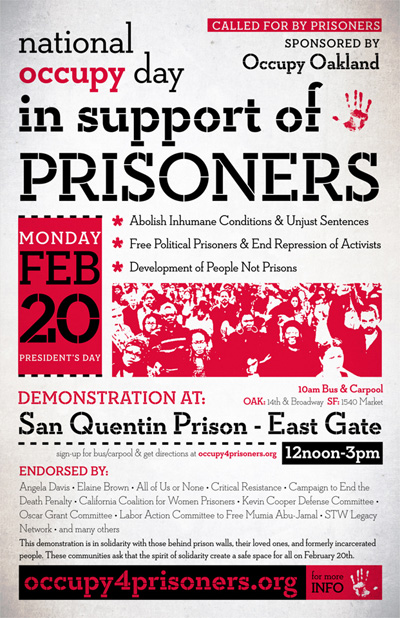 Occupy Oakland is participating in the National Occupy Day in Support of Prisoners.
WHERE: San Quentin Prison, East Gate
WHEN: Monday, February 20, 2012 (President's Day), 12:00 noon – 3:00 PM
TRANSPORTATION: Meet at 10:00 AM for bus/carpool at 14th & Broadway in Oakland, or at 1540 Market & Van Ness in San Francisco, http://occupy4prisoners.org
WEBSITE/MORE INFORMATION: www.occupy4prisoners.org
ALERT: IMPORTANT NEW INFORMATION FOR GETTING TO THE OCCUPY SAN QUENTIN PROTEST ON MONDAY, FEBRUARY 20th, from 12noon-3pm (East Gate)
We have been informed that the road block-off will begin at 10am on Monday.
The buses and carpools will have to drop off passengers at Francisco Boulevard East and Grange Avenue, see this map.
It is about 3/4 mile from that point to the prison. If you park farther away, the shuttle can only bring you that close.
Therefore if you are unable to walk to the gate you must get dropped off before 10am. We can help arrange for transportation for you that will bring you there before 10am. We are sorry for any hardship this may cause, but it is outside of our control. Please email occupy4prisoners@gmail.com to make  special arrangements.
Sign up for a ride or to volunteer for carpool. We strongly encourage you to go to a meet-up for a ride or to carpool. Signing up helps us get an idea of how many people are coming. NOTE: We have buses and carpools leaving from Oakland, and carpools from SF. We need more carpools in SF – Please help spread the word!
Oakland: meet-up at Oscar Grant Plaza/ 14th and Broadway – 10am
San Francisco: meet-up is at 1540 Market @ Van Ness – 10am
Directions and parking information PLEASE READ, especially if you are going to the prison without going to a meet-up first. There will be NO PARKING on the road leading up to the prison or in the prison parking lot. You will need to park 1-2 miles away and either walk or wait for the shuttle to bring you closer to the prison. This shuttle, however, will only bring you within 3/4 mile walking distance to the gate. If you need a ride all way up to the gate, you will need to get there before 10am when the road is closed. Please share that information in the rides sign-up or by emailing occupy4prisoners@gmail.com.
Public transportation options – Please consider the available public transportation, including bus routes from SF, Marin and Richmond.
Occupy San Quentin will feature reading of statements by people in prisons, art, music and bringing together our movements. This demonstration is in solidarity with those behind prison walls, their loved ones, and formerly incarcerated people. These communities ask that the spirit of solidarity create a safe space for all on February 20th.
CONTACT: occupy4
prisoners@gmail.com
In the Bay Area we will "Occupy San Quentin," to stand in solidarity with the people confined within its walls and to demand the end of incarceration as a means of containing those dispossessed by unjust social policies. Prisons have become a central institution in American society, integral to our politics, economy, and culture. Between 1976 and 2000, the United States built on average one new prison each week, and the number of imprisoned Americans increased tenfold. Prison has made the threat of torture part of everyday life for millions of individuals in the United States, especially the 7.3 million people (who are disproportionately people of color) currently incarcerated or under correctional supervision.
Imprisonment itself is a form of torture. The typical American prison, juvenile hall, and detainment camp is designed to maximize degradation, brutalization, and dehumanization. Mass incarceration is the new Jim Crow. Between 1970 and 1995, the incarceration of African Americans increased 7 times. Currently, African Americans make up 12% of the population in the U.S., but 53% of the nation's prison population. There are more African Americans under correctional control today, in prison or in jail, on probation or on parole, than were enslaved in 1850, a decade before the Civil War began.
The prison system is the most visible example of policies of punitive containment of the most marginalized and oppressed in our society. Prior to incarceration, 2/3's of all prisoners lived in conditions of economic hardship, while the perpetrators of white collar crime largely go free. In addition, the Center for Economic and Policy Research estimated that in 2008 alone, there was a loss in economic input associated with people released from prison equal to $57 to $65 billion.
Join us in listening to the voices of people in prisons and those who have had firsthand experience within the prison industry. There will be a full program based on the reading of statements written by people in prisons, other presentations, and music. Bring banners, solidarity, and a willingness to listen and learn about what is happening inside our prison system and why we need to stand up and demand change. We ask that the spirit of solidarity with people in prisons, their loved ones, and formerly incarcerated people, create a safe space for all on February 20th.
END MASS INCARCERATION
*Abolish Inhumane Conditions and Torture
*Abolish Unjust Sentences Including the Death Penalty, Life Without Possibility of Parole, Three Strikes
*Solidarity with Prisoner Movements for Human Rights
*Free Political Prisoners
*End Repression of Activists
*Development of People Not Prisons
Called for by prisoners, sponsored by Occupy Oakland.
Endorsed by:
Angela Davis * Elaine Brown * All of Us or None * Critical Resistance * Campaign to End the Death Penalty * California Coalition for Women Prisoners * Kevin Cooper Defense Committee * Oscar Grant Committee * Labor Action Committee to Free Mumia Abu-Jamal * Iraq Veterans Against the War – SF Bay Area Chapter * STW Legacy Network * San Francisco Bay View Newspaper * and many others.
Joined by:
Actions in Chicago, IL; Columbus, OH; Fresno, CA; Los Angeles, CA; New York, NY; Philadelphia, PA; Washington, DC, and the list is growing.
Facebook: www.facebook.com/occupy4prisoners
Twitter: https://twitter.com/#!/@occupy4prisoner
19498