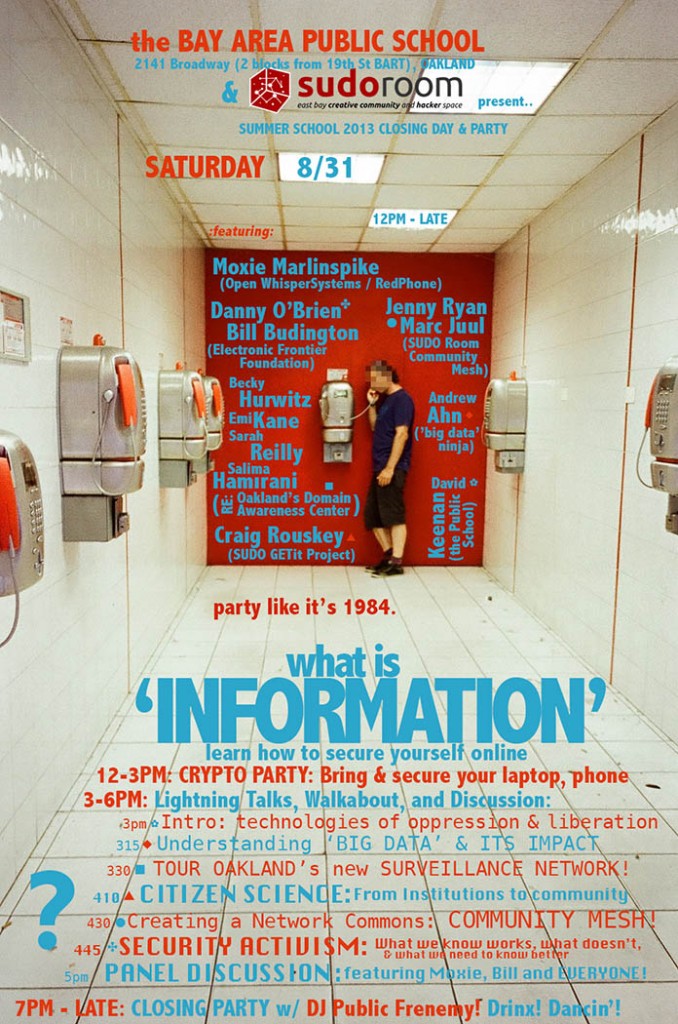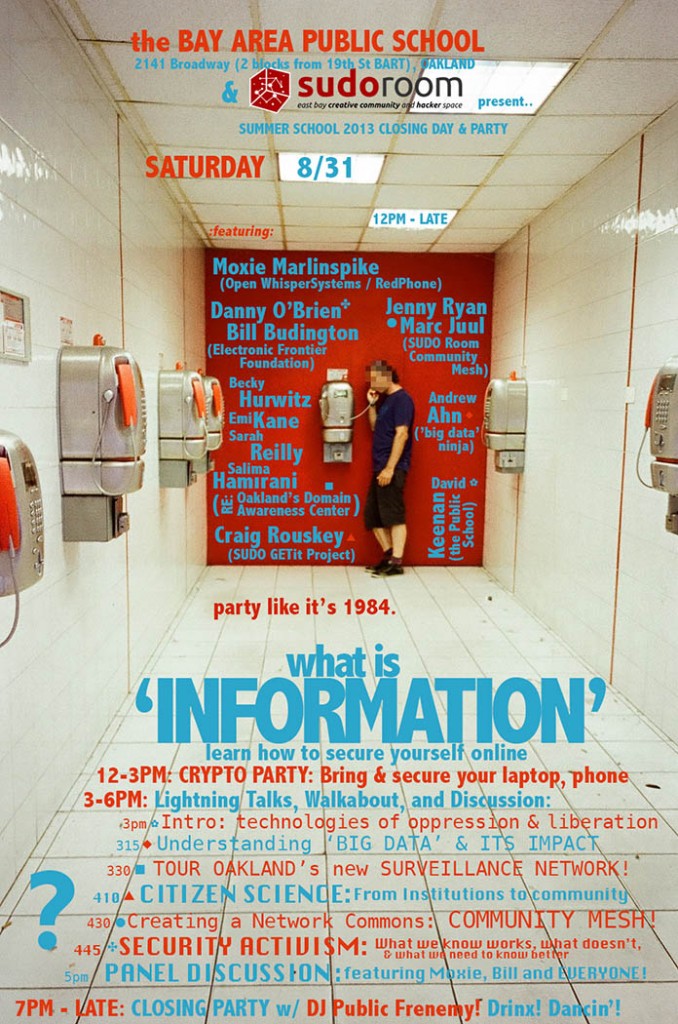 @ the Bay Area Public School and SUDO Room
2141 Broadway (Enter on 22nd) OAKLAND, just 2 blocks from 19th St. BART!on SATURDAY 8/31!! The Summer School 2013 day on: INFORMATION
12-3pm: CRYPTOPARTY! Bring & secure your laptop/phone in a hands-on session! Yes!!
Also, from 12-1pm: Free wonderful YOGA for those who don't need to cryptoparty, by the wonderful Lisa Light!
3-6pm: LIGHTNING TALKS, WALKABOUT, and DISCUSSION:
3pm Introduction / Emerging Technologies of Oppression and Liberation
by David Keenan (Bay Area Public School)
3:15 "Understanding 'Big Data'"
by Andrew Ahn (engineer)
3:30 WALKING INFOTOUR OF Oakland's NEW camera surveillance network / Domain Awareness Center
by Becky Hurwitz, Emi Kane, Sarah Reilly, Salima Hamirani (security activists)
4:10 "Citizen Science: From Institutions to Community"
by Craig Rouskey (SUDO GETit Project)
4:30 Creating a Network Commons: The Oakland Community Mesh Project
by Marc Juul and Jenny Ryan (SUDO Room)
4:45 "Security Activism: What We Know Works, What We Know Doesn't, and What We Don't Know But Probably Should Know Better"
by Danny O'Brien (Electronic Frontier Foundation/EFF)
5:00 PANEL DISCUSSION featuring:
Moxie Marlinspike (Open WhisperSystems/RedPhone),
Bill Budington (Electronic Frontier Foundation),
..and the other attendees! This will be amazing.
7:00 Summer School week CLOSING PARTY! DANCIN'! DRINX!
FEATURIN' DJ Public Frenemy (Liam O'Donoghue!) Yaaaayy
PLEASE distribute widely – If you prefer not to use Facebook, here is a link to the flyer: http://bayareapublicschool.org/index.php?id=15
Thanks! It's gonna be so rad…
52417