——————————————————-
The well-known punk band Anti-Flag has positively responded to a request made by members of Occupy Oakland to have a presence at their two performances happening in Oakland this week. "We would be honored to have [Occupy Oakland] table and speak at the show." Anti-Flag  will be performing on Wednesday, March 20th and Thursday, March 21st, 8PM at the Oakland Metro Opera house located in Jack London Square. Any Occupy member that has a powerful, succinct message to communicate may very well have the opportunity to deliver it live, on the mic, center stage. This is a call out to members of Occupy Oakland committees to bring your flyers, PR and recruiting skills, energy and passion to this tabling effort. Come one, come all! Bring your literature! Bring your message! Committee members and general troops will meet at the front entrance between 6:45-7:00PM and set up inside soon then after. Hope to see you there!
——————————————————-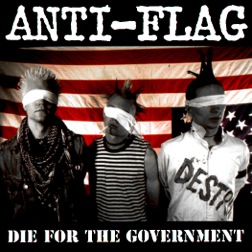 Anti-Flag is an American punk rock band from Pittsburgh, Pennsylvania, formed in 1988. The band is well known for its left-wing political views, focusing on anti-war activism, imperialism, class struggle, human rights, and various sociopolitical sentiments. The line-up includes singer/guitarist Justin Sane and drummer Pat Thetic, who founded the band; later members are guitarist Chris Head, and singer/bassist Chris Barker (#2) who replaced Jamie "Cock" Towns, who had replaced original bassist Andy Flag in 1997 following his departure one year prior. Anti-Flag is known also for their advocacy of progressive political action groups such as Greenpeace and Amnesty International. Most recently, the band has declared solidarity with the global Occupy Together movement.
Anti-Flag have been involved with activism throughout their musical career. This has included starting the activism groups The Underground Action Alliance, Military Free Zone (a group to protest a clause in the No Child Left Behind Act, which gave military recruiters automatic access to students' personal details) and The Bright Lights. They have been involved in performing at multiple protests, including two in support of Rage Against The Machine.
They performed outside the Republican National Convention in 2008. They were supposed to be the last band to play, but when officials found out that Rage Against The Machine were going to perform after them, they shut down the stage's power and Rage Against The Machine performed two songs using megaphones.
Most recently, the band played an acoustic set at the Occupy Wall Street demonstration in New York City on October 8, 2011.
They also regularly support political organizations which include:
– Democracy Now!, the latest headlines from which can be found on the band's homepage.
– PETA, who were one of the sponsors of their 2010 'The Economy Sucks Let's Party' tour.
– Amnesty International, to which the band donated money from the sale of The People and the Gun, have supported for a long time and who were one of the sponsors of their 2010 'The Economy Sucks Let's Party Tour'.
– Greenpeace, with whom the band worked in order to persuade world leaders to attend the climate conference in Copenhagen and who were one of the sponsors of their 'The Economy Sucks Let's Party Tour'.
– Useless, whom they sold screen-printed limited-edition T-shirts with to raise money The Kandorwahun project, while raising awareness and visibility for Useless.
The band's song "Die For Your Government" was sung by anti-war protesters who briefly blocked a road to prevent US troops from deploying to Iraq in August 2010.They have appeared in the 2010 music documentary Sounds Like A Revolution, about new protest music in America.
——————————————————-
March 20th and 21st, 2013 (8PM)
(Downtown Oakland – Jack London Square Station)
630 3rd Street – Oakland, California 94607 – (510) 763-1146
——————————————————-
——————————————————-
YouTube Music Videos:
——————————————————-
Other Media Event Announcement Page(s):
If anyone has any specific question or concerns about our presence at the shows please email Josh: fredsbakery[at]rocketmail.com
47783