David Rovics Benefit for Occupy Oakland on December 10th

There will be a concert benefit for Occupy Oakland at the Niebyl-Proctor Marxist Library on Monday, December 10th, doors open at 6 PM, music at 7 PM. Tickets will be $10 a piece or whatever you can afford.  There will be free food, as well as beverages for sale.
Niebyl-Proctor Marxist Library
 6501 Telegraph Ave.
 Oakland, California
David's music is simply wonderful, sometimes moving and emotional, often hysterically funny, but always vitally concerned with making the world a better place.
But a song is worth 10³ words, here are a couple of examples:



This one cost David a few friends:

Since Occupy has had to deal with the social consequences of Hurricane Sandy to step in where the state and private charities have failed check out Rovics' take on an earlier "natural" disaster:

Here is a version of David's song about the Occupy movement.



This one is Einstein's favourite Rovics tune about his idol Loukanikos:


As Woody Guthrie said, I hate a song that makes you think you were born to lose:

David's music is almost all Creative Commons and he puts it out there for free download, or you can pigeon-hole Fat Ed and he can give you a pile of mp3s.
Here are some either venues where you can catch David during the week:
Saturday, December 8th, 4 pm
Gaza Ark benefit, with pot luck dinner after the show!
First Presbyterian Church
72 Kensington Road
San Anselmo, California
Sunday, December 9th, 4 pm
House concert
San Rafael, California
RSVP David Kupfer for info if you'd like to attend!
Sunday, December 9th, 8 pm
Berkeley Fellowship of Unitarian Universalists
Cedar & Bonita
Berkeley, California
You can download a neat poster Sandy made for us by clicking on this image or you can click on the black and white image and print out hand bills for the concert, 2 to a 8×11″ sheet: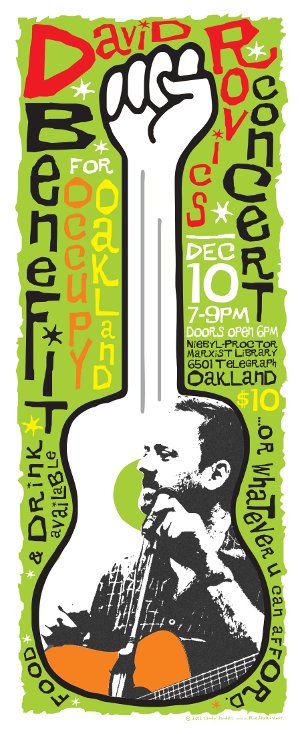 If anyone has made it down this far maybe I could get someone to post something about this on Faceplant?  I don't have (or want) an account.
45432