"Seeking Justice for Alan Blueford at the Militarized Oakland City Council: Police Murder and Political Contestation in the "International City of Peace"
By: Mike King
The Blueford family and the Justice for Alan Blueford (JAB) Coalition returned to City Hall last night, after causing such a disruption at the last meeting (September 18th) that it was cancelled.  On Tuesday evening, over 200 people came out to support the Bluefords in demanding answers, over 100 of whom were barred from entering the City Council meeting by Oakland police.  Inside the City Council chambers, the Blueford family and several dozen supporters demanded answers and the police report, and that the officer who killed Alan be fired.  This took place amidst empty seats and a large police presence inside the closed doors of the chamber, as a large crowd outside demanded to be let in.  Shouts of "No Justice! No Peace!" and "Jail Masso, Now!" resounded inside and outside of the chambers, preventing City Council from conducting business for over and hour and a half.  Oakland police physically barred the doors to the chamber, blocking a large group, including members of several unions and religious and community organizations from entering.  The shouts of "Let us in!" and "Our City Council!" boomed, measured to be 100 decibels, as police stood smirking, guarding a half-full City Council meeting that is supposed to be a public event.  After ninety minutes of constant chanting prevented the City Council from addressing their agenda, Council member Larry Reid stood up, exasperated, and gave the family his copy of the police report.  At that juncture the family felt that the point had been made, again, that City Council would have to deal with this matter.  The (redacted) police report, said to be available to the public soon, will nonetheless likely shed more light on the police misconduct that took place on the night of May 6th.
Alan was shot by Oakland Police officer Miguel Masso on May 6, 2012.  Although police contend that Alan had a weapon, several eyewitnesses all say that Alan had no weapon… "
UPDATE OCT 03, 2012: After almost four months of begging and political pressure from the Blueford Family and Supporters the Oakland Police Department finally has been made public: http://www2.oaklandnet.com/Government/o/OPD/a/PublicReports/OIS/index.htm
[OPD and Oakland City Council are merciless people that shouldn't be running the city of Oakland]
For general information about "Justice for Alan Blueford" please visit: http://justice4alanblueford.org
"It has been almost 5 months since since Officer Miguel Masso killed Alan Blueford on May 6. Alan Blueford's family has sought clear answers from Oakland Police Department — they just want the truth about what happened to their son.
Oakland Police Department has consistently thwarted the Blueford family's attempts to learn what happened to their loved one. They have released a series of conflicting stories about what happened on the night Alan was killed and are now refusing to provide the police report.
Oakland Police Department has had more than enough time to complete an investigation and release the report. It's time to stop the misinformation and deception.
Demand that Mayor Jean Quan, City Council President Larry Reid, City Administrator Deanna Santana and Police Chief Jordan immediately release the full police report."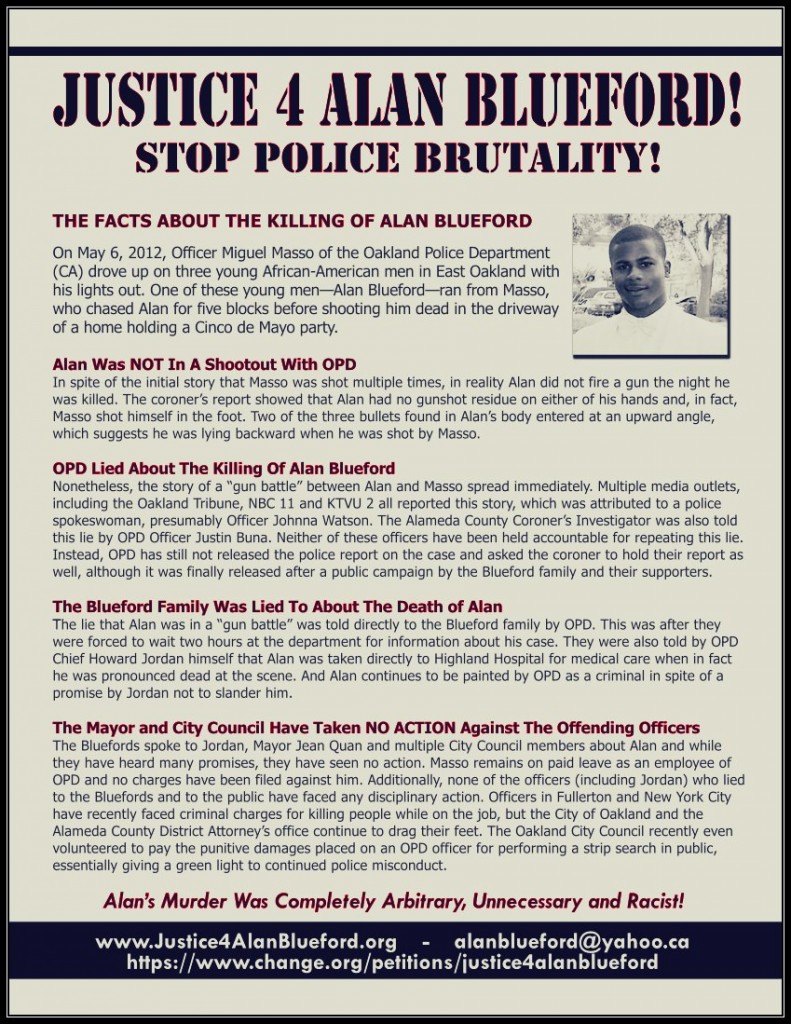 41371