Why it Matters Now!
Forums on NDAA
National Defense Resources Prepardness
Surveillance & Drones
Tresspass Law
Sunday, July 29 . 1 PM  San Francisco
Unitarian Universalist Center, Franklin at Geary, Starr King Room
Tuesday, July 31 . 7-9 PM Oakland Peace Center
111 Fairmount Avenue at 29th Street, off Auto Row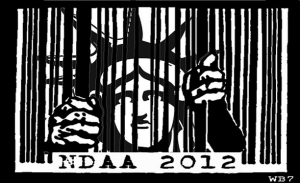 Sponsors:  Courage To Resist – Bill Of Rights Defense Committee – Code Pink – Arab Resource & Organizing Center – Break The Chains – Bradley Manning Support Network-Bay Area – War Resisters League-West – Movement For A Democratic Society-Bay Area – Asian Americans For Peace & Justice – East Bay Social Forum – San Francisco 99% Coalition – National Lawyers Guild SF Bay Area Chapter – Electronic Frontier Foundation – Equal Justice Alliance – Japanese American Citizens League
Late last year, President Obama signed an annual military funding bill – the National Defense Authorization Act, or NDAA – including controversial provisions that could authorize the US military to indefinitely detain anyone in the US without trial. The statute is so vague that anyone could be detained in military custody: mere suspicion of association with potential terrorists (or, for that matter, disfavored demographic or political groups) could suffice. The war on terror has long undermined our civil liberties and enabled ethnic profiling.  The NDAA exacerbates that sad, outrageous, and continuing history.
A diverse panel will provide analysis, explore potential grassroots responses, and address questions from the audience.
Panelists in San Francisco on Sunday, July 29, 1 pm:
Shahid Buttar, Executive Director, Bill of Rights Defense Committee
Nancy Mancias, Code Pink Accountability Campaigner
Grace Shimizu, Asian Americans for Peace and Justice Organizer
Ashwak Hauter, Arab Resource and Organizing Center
Panelists in Oakland on Tuesday, July 31, 7 pm:
Shahid Buttar, Executive Director, Bill of Rights Defense Committee
Bob Meola, member of Movement for a Democratic Society-Bay Area
Debra Small of Break the Chains
Lee Tien, Senior Staff Attorney for the Electronic Frontier Fdn
Mike Flynn, National Lawyers Guild & Coalition for a Safe San Francisco
Ted Jitodai, Japanese American interned during World War II
Shannon Robinson, Legal Extern, Equal Justice Alliance
Moderator: Walter Riley, Civil Rights Attorney
"The purpose of the SF99% Coalition is to work in coalition with and offer support to groups which promote nonviolent advocacy for more equitable social, economic and environmental public policies."  More information:  www.sf99percent.org  or leave a voice mail at 415-404-9973 (415-404-99SF).            
37166