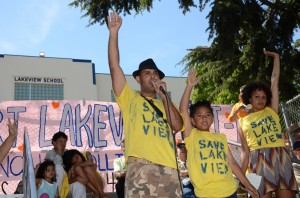 Police visited the school twice today, handing out a trespassing notice of sorts in am (OUSD speak about disrupting the good order of a school).
Then cops came back to tour the building in force apparently scoping out future plans.
A spirited rally at 4 pm featured many teachers, students, parents and community members.
You can sign up for text blast system to receive instant updates on police threats and responses.
Text the message "lakeviewsitin" to 41411 (i.e. put 41411 instead of the normal 10 digit phone number).
A demonstration at OG Plaza is set for Saturday 6/23 at 12 noon, as well as continuing vigil and night watch shifts.
Lakeview School
(across from the Grand Central Theater)
For more info: http://www.saveoaklandschools.org/
CLICK HERE FOR DIRECTIONS TO LAKEVIEW SCHOOL!
34346