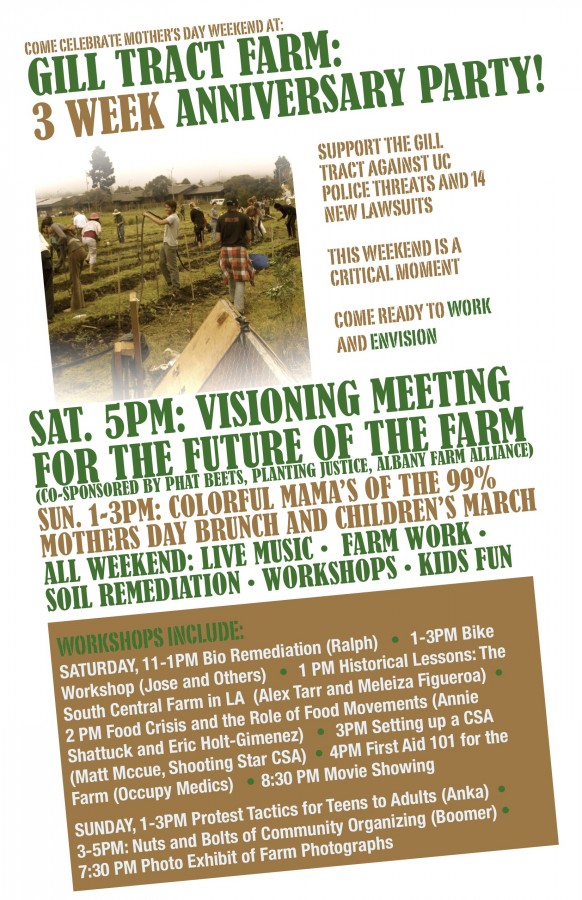 Albany, CA.  May 10, 2012 at approximately noon, the UCPD closed off the last remaining pedestrian access to the Gill Tract by chaining and locking the gate at San Pablo and Marin Avenues.  For the past 24 hours, that gate had remained open, and despite a heavy police presence people had been able to enter and exit freely through it.
This represents the latest in a series of measures taken by the UC Administration to force the Farmers off of this piece of public farmland.  To date, the UCPD has cut off all water to the Gill Tract, incapacitated the fire hydrant on the land, placed concrete barriers around the land preventing vehicular access, and locked all entrances shut.  Farmers note that these actions threaten more than just their plants: that in this dry, windy weather, which poses a high fire-risk, there are no working fire hydrants on the land, and significantly restricted access points for firefighters and exits for people on the land.
Farmers are upset that the UC Administration is preventing scientists from carrying out their research on the Gill Tract.  For the second day, UC Berkeley Professor Miguel Altieri has come to the Gill Tract to attempt to plant his crops. Whereas the Gill Tract Farmers Collective has directly assisted Altieri with his planting effort, the UCPD has physically prevented him from planting his dry-farmed tomato crop, saying he has no "authorization" to do his research.  Professor Altieri says that he is "disappointed that the University has missed this opportunity to acknowledge that a coexistence of researchers and occupiers is possible, and that they have blocked access to my experimental plot."
Supporters are encouraged to bring food, drinking water, large water containers such as gallon jugs, duct tape, and farming supplies to pass to people inside the fence.  Supporters are also being encouraged to bring camping supplies, to stay overnight, and help maintain a permanent presence outside the fence to defend and supply the farmers inside.
The Gill Tract Farm's 3 Week Anniversary Party!
This weekend is a critical moment. Come ready to work and envision. Support the Gill Tract against UC police threats and 14 new lawsuits
**Sat 5pm: Visioning Meeting for the Future of the Farm** (co-sponsored by Phat Beets, Planting Justice, Albany Farm Alliance)
Sun 1-3pm: Colorful Mamas of the 99% – Mothers' Day Brunch and Children's March
All Weekend: Live Music, Farm Work, Soil Remediation, Workshops, Kids Fun
Workshops
Saturday
11-1pm Bio Remediation (Ralph)
1-3pm Bike Workshop (Jose and Others)
1pm Historical Lessons: The South Central Farm in LA (Alex Tarr and Meleiza Figueroa)
2pm Food Crisis and the Role of Food Movements (Annie Shattuck and Eric Holt-Giménez)
5pm Visioning Meeting For the Future of the Farm (co-sponsored by Phat Beets, Planting Justice, Albany Farm Alliance)
3pm Setting up a CSA (Matt McCue, Shooting Star CSA)
4pm First Aid 101 for the Farm (Occupy Medics)
8:30pm Movie Showing
Sunday
1-3pm Protest Tactics for Teens to Adults (Anka)
Sun 1-3pm: Colorful Mamas of the 99% – Mothers' Day Brunch and Children's March
3-5pm Nuts and Bolts of Community Organizing (Boomer)
7:30pm Photo Exhibit of Farm Photographs
#occupythefarm #takebackthetract #otf
30858