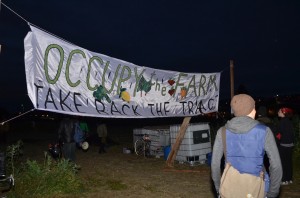 Thank you Shawn for asking me to go the Farm, it is beautiful! –
Even though it was at night time, I was able to feel the harmony and beauty of the people and the place. They seem to be very well organized. In fact I heard that some UC Berkeley planned it with a few months in advance.  When time allows me, certainly I would like to go back again and hope that it is during the day so I can bring some more pictures to you. Last night there was a GA going so photography/video are not allowed.
Hey! Wait a minute! Do not wait for my pictures! Come on to the farm, it is located on San Pablo Avenue and Marin, in Albany California. Google Maps: http://g.co/maps/a54ng. In case you don't know, Albany is a 2 miles radius city next to Berkeley. And, it is also close to the i80 freeway.
Anyways, my photos or any one else's photos will never bring the feeling as when you there in person. Come on to the farm and support the people that wants to make this world a better world to live in for us (this includes you), your children, children's children, and so on!
Who knows, perhaps you ended helping there, hands, minds, and good hearts are always welcome anywhere! Occupy Everywhere. ~ "danilo"
Article below source: http://takebackthetract.com/index.php/17-general-content/32-pressrelease
————————– Article starts here ——————————-
(Albany, Calif.), April 22, 2012 – Occupy the Farm, a coalition of local residents, farmers, students, researchers, and activists are planting over 15,000 seedlings at the Gill Tract, the last remaining 10 acres of Class I agricultural soil in the urbanized East Bay area. The Gill Tract is public land administered by the University of California, which plans to sell it to private developers.
For decades the UC has thwarted attempts by community members to transform the site for urban sustainable agriculture and hands-on education. With deliberate disregard for public interest, the University administrators plan to pave over this prime agricultural soil for commercial retail space, a Whole Foods, and a parking lot.
"For ten years people in Albany have tried to turn the Gill Tract into an Urban Farm and a more open space for the community. The people in the Bay Area deserve to use this treasure of land for an urban farm to help secure the future of our children," explains Jackie Hermes-Fletcher, an Albany resident and public school teacher for 38 years.
Occupy the Farm seeks to address structural problems with health and inequalities in the Bay Area that stem from communities' lack of access to food and land. Today's action reclaims the Gill Tract to demonstrate and exercise the peoples' right to use public space for the public good. This farm will serve as a hub for urban agriculture, a healthy and affordable food source for Bay Area residents and an educational center.
"Every piece of uncontaminated urban land needs to be farmed if we are to reclaim control over how food is grown, where it comes from, and who it goes to," says Anya Kamenskaya, UC Berkeley alum and educator of urban agriculture. "We can farm underutilized spaces such as these to create alternatives to the corporate control of our food system."
UC Berkeley has decided to privatize this unique public asset for commercial retail space, and, ironically, a high-end grocery store. This is only the latest in a string of privatization schemes. Over the last several decades, the university has increasingly shifted use of the Gill Tract away from sustainable agriculture and towards biotechnology with funding from corporations such as Novartis and BP.
Frustrated that traditional dialogue has fallen on deaf ears, many of these same local residents, students, and professors have united as Occupy the Farm to Take Back the Gill Tract. This group is working to empower communities to control their own resilient food systems for a stable and just future – a concept and practice known as food sovereignty.
Occupy the Farm is in solidarity with Via Campesina and the Movimiento Sin Tierra (Landless Workers Movement).
Media Contacts:
Lesley – (707) 293-3253
Gopal – (510) 847-3592
Anya – (415) 892-4793
————————– Article ends here ——————————-
28063