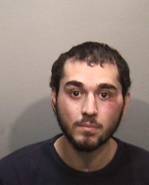 Were you in the area of 12th and Oak Streets on January 28, 2012? If so, please read this:
Mario Casillas was demonstrating on Move-In Day when he was beaten by the police and arrested. He is now facing two felony counts of assault with a deadly weapon – his bicycle – on a police officer. The police claim that their portable video recorders "malfunctioned" during the arrest. Unfortunately, nobody from Occupy seems to have video either, so Mario needs to find witnesses to what the police did to him.
Do you remember the police order to disperse, the flash bangs, the tear gas, and the bean bag projectiles? While that was going on, Mario was in the intersection of 12th Street and Oak, at the back of the demonstration. The police firing tear gas were two blocks away, at 10th and Oak. However, there was another police skirmish line coming up from behind, moving from 13th to 12th on Oak. It was police from that line who arrested Mario. When the police closed in, everybody retreated back to the Plaza. Most people left Oak Street by going west on 11th. But some people at the back of the demonstration retreated on 12th Street.
Did you retreat on 12th Street? If so, you may have seen what the police did to Mario Casillas. At that time, Mario was standing holding his bicycle next to a woman who was standing with her bicycle. You can see the woman and her bicycle getting pushed in front of the skirmish line at 0:10 in this video, which starts a little too late to show Mario.
Here is a diagram that might help you figure out if you were in this area at that time.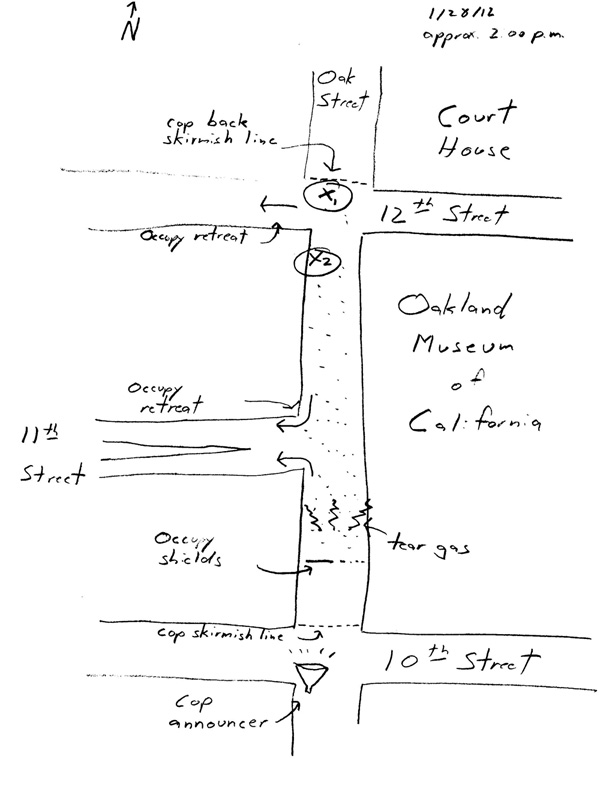 If you remember seeing any of the police actions against Mario Casillas, please get in touch with his lawyer. Here is his contact information:
David J. Briggs
Attorney at Law
910 Court Street
Martinez, CA 94553
(925) 957-0900
(925) 229-5287 fax
attorneybriggs@sbcglobal.net
25886