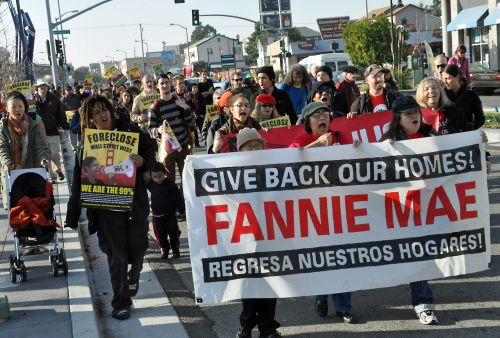 1. CANVASSING THIS WEEK with the family and neighbors of Mrs. Katy Mitchell
WHEN: Tuesday, March 6, 2012, 3:00 pm to 5:00 pm
WHERE: Meet outside the Starbucks in the shopping center at 51st and Broadway, north Oakland
We will be canvassing as much foot traffic as possible in the shopping center at 51st St. and Broadway (Several banks have branches there including Chase, the bank that is servicing Mrs. Katy's loan!). If you don't know how to  canvass or approach people well in the street, we can team you up with great folks who have that experience. We'll have a short tutorial beforehand when we gather. We will be talking to people about Mrs. Katie Mitchells foreclosure fight, passing out an update on her situation, signing people up for our update mailing list, and seeking out leads on other folks who need our backup in their foreclosure fights.
2. OOFDG's FIRST GENERAL MEETING
WHEN : Wednesday, March 7, 2012, 5:30 PM
WHERE: OGP
A chance to meet everyone else, hear what is in the pipeline, get an update on our current fight for Mrs. Katy, and find out how to start working on our various projects. Also, we will be presenting our proposal to the GA that we be recognized as an official committee with all the privileges and responsibilites that such entails.  Come on out to get started!
3. ALL OUT! – NELL'S AND SYNTHIA'S HOME IS IN DANGER
When: Thursday, March 8, 2012, 12:00 noon to 3:00 pm
Where: Alameda County Court House, 1225 Fallon, Oakland, Lake Merritt BART, 40 bus stop
Homeowners names: Martha Nell Myhand and Synthia Green
Property address: 1329 E 32nd St., Oakland, CA 94902
Chase Bank Loan#: 1996439003
Notice of Trustee Sale#: 7037.72898
On March 8, International Women's Day, my partner and I are refusing to be made homeless or exploited for the profit of the 1%. We are about to be foreclosed on by Chase Bank and their thieving friends after two years of runaround and refusal of the bank to work with us to modify our home loan. We have lived at 1329 E. 32nd St. for eleven years. A series of events impacted our ability to sustain the house payments of over $2,100 per month. My mother developed dementia, requiring full-time caregiving until her death in this home in 2009. Synthia had a stroke, was forced into early retirement and denied disability, but ultimately won her rights and is now blind. The unwaged caregiving work increased while my family's income dropped.
I have spent hundreds of hours tied up with loan modification paperwork and being sent between the bank and other entities who "may hold the deed to our home." In the end our applications were denied twice for no credible reason. Even with the auction pending, we are in the middle of another modification request and still trying to find out who has the title to the house. As is the case with many families of color, the bank has no concern for our economic hardships. In spite of this, I am active with Women of Color@Global Women's Strike, continuing to help others with similar problems and to build campaigns to defend everyone's right to justice. Both Synthia and I are determined to see the world become a better place, and to this end we intend to remain in the home which we have paid over $150,000 for with its garden that we both love. I am employed as a half time housing counselor and Synthia is a retired teacher living on STRS disability retirement income.
22662