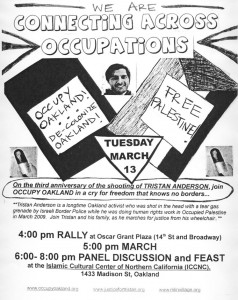 March 13, 2012 marks the third anniversary of the shooting of local Oakland activist Tristan Anderson in Palestine. He was shot in the head by Israeli border police with the same tear gas canisters that are used to repress activists in Oakland, Palestine, and Egypt. Over the years, other Palestinians and solidarity activists have been killed, injured, and arrested during the same weekly protests in various locations in the West Bank. During the last few months, more and more Palestinian villages have joined the popular resistance in response to Israeli settler brutality and land theft, a lot of which is being committed with American weapons and complicity. Israel started bombing Gaza last Friday and by Saturday killed 17 Palestinians, some of whom were children. At least 28 have been wounded. This is the deadliest outbreak of violence on the Gaza-Israel border since a devastating Israeli assault on Gaza in December 2008-January 2009.
Join Tristan and his family as he marches for justice in his wheelchair. Honor Tristan's courage and stand in solidarity with the people of Palestine!

Tuesday, March 13, 2012
4 PM Rally: Starts in Frank Ogawa/Oscar Grant Plaza (14th and Broadway, Oakland).
5 PM March
6 – 8 PM Panel: Discussion about state repression and community resistance in Oakland and Palestine at the Islamic Cultural Center of Northern California (ICCNC), 1433 Madison Street, Oakland.
Food provided at the ICCNC. Please visit the Facebook page and invite others!
http://www.facebook.com/events/223844184380309/justicefortristan.org
23436