1/5/12 10:00 am Some reports that photos of protestors taken earlier (see below) were used to identify specific individuals for arrest. Calls for renewed protest at 2 pm today at City hall. Details of arrest and protest by interfaith vigil member
1/5/12 1:00 am Intermittent chanting and highly spirited crowd of over 50 despite late hour moved to 6th &Clay St. at Wiley Courthouse, two blocks off Broadway.
1/5/12 12:35 a.m. Vigil now in front of Jail at 6th and Broadway, ( Oakland seeking release of prisoners. I Hi Res:Hhttp://www.ustream.tv/occupyoakland#utm_campaign
1/4/12 11:20 Twenty  police cars full of riot gear clad cops.  Eight arrests reported. Stuff confiscated. Cops withdrawing.  Tree sitter still sitting. 11:48 March to jail getting underway. Meet at 6th and Broadway, Midnight.
Photo Stream: http://campl.us/user/alyssa011968
Archive recording of raid Low res: http://www.ustream.tv/channel/eyeslam
Hi Res:Hhttp://www.ustream.tv/occupyoakland#utm_campaign
1/4/12 11 pm. Cops in vicinity.  Action may be imminent.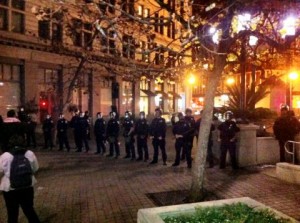 1/4/12  10:30 pm Beautiful night. Join us. It's not that cold and there r great people here, see  alyssa011968 for photos of vigil

1/4/12 In the morning the OPD arrived on scene, took photos & notified their crew we are down to 10 at the plaza. The need for Vigil support is ongoing.  Come down anytime. If you never attended before, the Oscar Grant Plaza (Ogawa Plaza) is located in front of the Oakland City Hall in Oakland California.
1/3/12 OPD revokes vigil permit 1-3-12. Raid threatened
OPD has officially revoked permit & is threatening to make arrests if tables, etc aren't cleared by 6:30.
Background information on vigil from other media: E.B Express   Hyphenated Republic
14860